Tully Potter hears some ravishing playing at the Lionel Tertis International Viola Competition, although standout performances were somewhat thin on the ground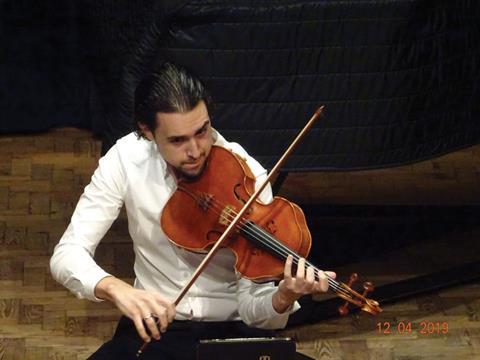 This unique event has notched up its baker's dozen since 1980. An initial entry of 107 violists who sent in videos had been whittled down to 36 by the time we gathered in the picturesque bay, and all week (6–13 April) we were assured that the standard was amazingly high. So it was disappointing that none of the three finalists really dazzled.
A jury of four – Carol Rodland, Danusha Waskiewicz, William Coleman and Mikhail Zemtsov – plus chairman George Caird heard three dozen readings of the excellent test piece Canto by Roxanna Panufnik, among other things, in the two rounds held 'in camera'. For the public semi-final – eight performances of Beethoven's C minor String Trio or Dohnányi's C major Serenade with Simon Blendis and Jane Salmon – they favoured Americans Jordan Bak, Natalie Loughran, Emma Wernig and Paul Vincent Laraia, Briton Toby Cook, Saki Ishida of Japan, China's Yuchen Lu and Frenchman Paul Adrien Zientara. Ishida stood out with some of the most ravishing viola playing I have heard in years: even in quiet passages, her tone shone with jewel-like radiance. The failure to put her through to the final caused widespread consternation.
Two finalists played Panufnik, a repeat of their Dohnányi and Bartok's Concerto. Zientara, 18, a pupil of Sabine Toutain, is a tall, sensitive player, perhaps not quite ready for the limelight – the Bartók flustered him at times. Laraia, 30, a former Kim Kashkashian student who plays in the Catalyst Quartet, is musically mature but constantly pulls bizarre grimaces, like a silent movie ham actor, and produces rather unpleasant sounds from his Hiroshi Iizuka viola as soon as he applies bow pressure. I derived only intermittent pleasure from his interpretations, while appreciating that they were well prepared. Lu, 20, a current Kashkashian pupil, gives signs of being a real character: his Panufnik moved me the most, his Beethoven Trio was musical, but Hindemith's Der Schwanendreher proved his trump card – when he can inject even more jollity, it will be a superb asset. He must curb his puffing and blowing!
Laraia took first prize: £7,000, a Wigmore Hall recital in 2020 and a £5,000 new viola bow from Bishop Instruments & Bows. Lu received £5,000 and Zientara £3,000. Among a host of smaller prizes, Ishida was consoled with £500 and the likeable Bak won a £500 award in memory of violist John White. The festival's workshop side was well supported and the jury members' masterclasses and recitals were much appreciated. I must mention Waskiewicz's own La donna del fiume, in which she sang wordlessly to her solo viola, Zemtsov's Ernst Last Rose of Summer, Rodland's Mansurian and Rochberg, and Coleman's George Benjamin. An enduring memory of Waskiewicz's masterclass is hearing Z'ian 'Mike' Wang, urged to sing along with his Rebecca Clarke Scottish ballad transcription, unleashing a startling counter-tenor.
Photo: Courtesy Lionel Tertis International Viola Competition