MinGwan Kim from South Korea wins CZK 20,000 first prize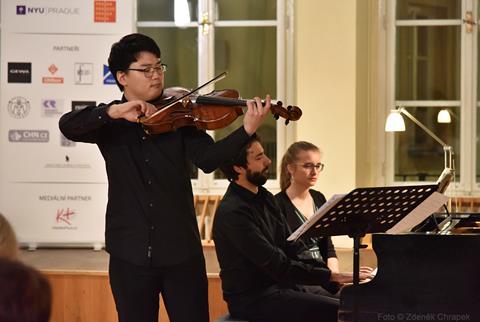 First prize winner MinGwan Kim
MinGwan Kim from South Korea has been awarded 1st prize at the inaugural Oskar Nedbal International Viola Competition, which took place in Prague from 1 to 3 November 2019.
Kim was awarded CZK 20,000 plus other prizes including a viola bow by Luboš Odlas. Kim's compatriot Yuri Yoon was placed second, with Evgeny Shchegolev from Russia coming third.
Kim is a student of Hartmut Rohde at the Berlin University of the Arts and a graduate of the Hochschule für Musik Hanns Eisler Berlin where he studied with Walter Küssner. He was a prizewinner at the 2013 Jan Rakowski Viola Competition in Poznan, and recently joined the Dortmund Philharmonic as section leader.
Tim Frederiksen, who is a professor at the Royal Danish Academy of Music, Denmark, led the jury; the other jury members were Stephanie Baer, Sheila Browne, Kristina Fialová, Jan Pěruška and Jensen Horn-Sin Lam.
The contest's namesake, Oskar Nedbal (1874-1930), was one of the most important pupils of Antonín Dvořák, after Josef Suk and Vítězslav Novak. He was born in the south Bohemian town of Tábor, the son of Karel Nedbal who founded the Philharmonic Association, today the Bolech Chamber Orchestra. Oskar collaborated with this orchestra as a violist and conductor, and was later violist with the Czech Quartet.
Among the special prizes was one for the best interpretation of a composition by Nedbal, his Romantický kus (Romantic piece) for cello and piano op.18, which went to Alva Rasmussen of Sweden.