The 36 hopefuls will be required to play solo and chamber repertoire, as well as direct an orchestra to be in with a chance of winning the €30,000 top prize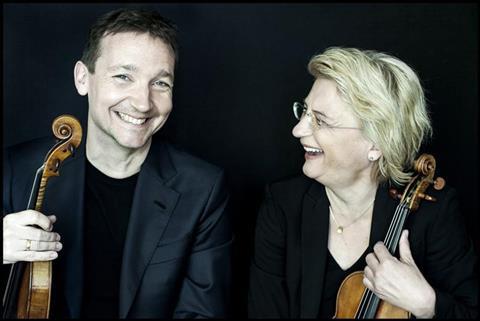 The Joseph Joachim International Violin Competition Hannover 2021 has announced the names of the 36 young violinists who will compete later this year for the €30,000 top prize. The 2021 competition is the first since the appointment of artistic directors Oliver Wille and Antje Weithaas.
Aged between 17 and 29 and representing 17 countries, the contestants are: Yurina Arai, Clarissa Bevilacqua, Claire Bourg, Jane-Hyeonjin Cho, Elli Choi, Javier Comesana, Daniel Dastoor, Sara Domjanic, Hawijch Elders, Fanny Fheodoroff, Irene Fiorito, Yuki Hirano, Maria Ioudenitch, Lorenz Karls, Alexander Won-Ho Kim, Namhyun Kim, Adam Koch Christensen, Agnes Langer, Anna Lee, Jaeook Lee, Charlie Lovell-Jones, Charlotte Marckx, Mathilde Mildwidsky, Elias David Moncado, Yukari Ohno, Seji Okamoto, Eva Rabchevska, Enrique Rodrigues, Chara Sannicandro, Dongyoung Jake Shim, Dorothea Stepp, Alexandra Tirsu, Julian Walder, Alexander Weissbecker, Minami Yoshida and Zhixin Zhang.
The selection was made by principal string players of the NDR Radiophilharmonie, the orchestra that will appear alongside contestants in the final round on 10 October.
Those who make it through to the semi finals will be required to direct a performance of Mozart and Bartok from the violin with Camerata Bern and, alongside members of the Kuss Quartet, play the first violin part of a Haydn quartet.
In the final, the competitors must play a concerto by Beethoven, Brahms, Mendelssohn or Schumann, as well as a work the competition has commissioned from composer Manfred Trojan.
Chaired by Carolin Widmann, the competition jury comprises Eleonore Buning, Ana Chumachenco, Suyoen Kim, Robert Levin, Andrew Manze, Christine Schafer, Ulf Wallin and Donald Weilerstein.