Schröder was a key figure in the revival of Baroque, Classical and early Romantic string playing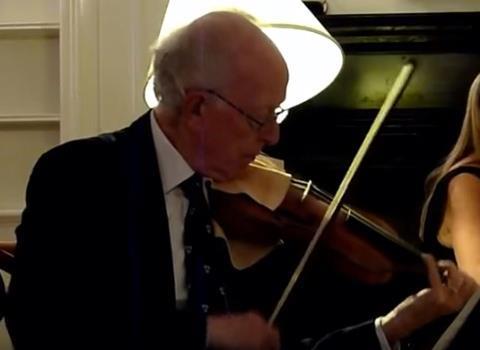 Jaap Schröder performing with harpsichordist Meg Irwin Brandon at Yale University, 2009
Jaap Schröder, the Dutch violinist, conductor and pedagogue, and a key figure in the historically informed performance movement, died on 1 January at the age of 94.
Schröder enjoyed a multi-faceted career as a chamber player, baroque violinist, researcher and pedagogue. He was a researcher of the violin literature of the 17th and 18th centuries, and in the 1960s was a key figure in the founding of ensembles to perform in a historically-informed way, notably the early music ensembles Quadro Amsterdam and Concerto Amsterdam.
He was a longtime music director and concertmaster of the Academy of Ancient Music, in London, and of the Smithsonian Chamber Players, based in Washington D.C. He was a founding member of the Quartetto Esterhazy (1972–1982), the Smithson Quartet (1982-1996) and the Skálholt Quartet, and taught at Yale University, the Peabody Conservatory and the Banff School of the Arts.
In an article for the Smithsonian Chamber Players website, Schröder named Quartetto Esterhazy 'the first quartet to focus on sound and style-related questions of musical interpretation, using appropriate instruments and bows.' With the Smithson Quartet, he wrote, he continued 'the search for a style-conscious and convincing way of bringing true excitement to the classical repertoire without a heavy romantic overdose.'
As an early music specialist Schröder made recordings with Gustav Leonhardt, Anner Bylsma, Frans Brüggen. His discography includes recordings of works by Biber, Bach and a disc of works by Matteis the Elder, Baltzar and Matteis the Younger, performed on baroque violin made by Willem van der Syde, Amsterdam c.1700.
Born on 31 December 1925 in Amsterdam, Holland, Schröder studied at the Amsterdam Conservatory and at the Sorbonne in France. 'I am definitely rooted in the French violin tradition,' he wrote, 'and apart from my own teachers (Calvet and Pasquier) my "heroes" are people like Jacques Thibaud and … Stéphane Grappelli!' He was initially unsure whether to become a violinist or a musicologist: 'Back in Holland however, the choice was not difficult: three well-known musicians of an older generation invited me to join them in the Netherlands String Quartet and for the next seventeen years we had a very successful career with almost yearly tours in the US, including two summers at the Aspen Festival.'
A published pedagogue, his books include Bach's Solo Violin Works: A Performer's Guide.