This year's Senior Final, featuring violinists aged between 17 and 20, took place in Victoria Hall, Geneva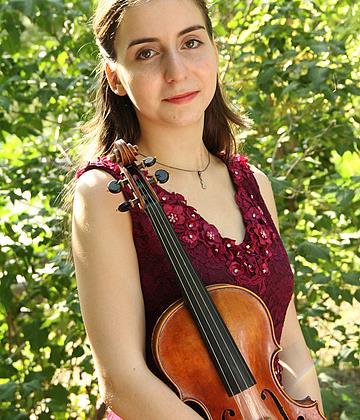 Diana Adamyan has been named the winner of the Menuhin Competition 2018 Senior Division, following a Final held at Geneva's Victoria Hall this evening.
Four Finalists, whittled down from 22 violinists aged between 16 and 21 over two previous live rounds, performed a concerto with the Royal Philharmonic Orchestra conducted by Julian Rachlin.
18-year-old Adamyan from Armenia receives a first prize of CHF 15,000, plus the one-year loan of a fine old Italian violin through Christophe Landon Rare Violins, Inc.
Second prize, worth CHF 10,000, goes to 20-year-old Nathan Mierdl from France/Germany, while third prize, worth CHF 7,000 goes to 20-year-old Hyunjae Lim from South Korea. 17-year-old Tianyou Ma from China receives fourth prize, worth CHF 4,000.
First prize at the Menuhin Competition Junior Division was awarded jointly last night to 11-year-old Chloe Chua from Singapore and 10-year-old Christian Li from Australia - a first in the competition's history.
The biennial Menuhin Competition is taking place from 12-22 April in Geneva, Switzerland. The 2018 jury comprises Joji Hattori, Itamar Golan, Ilya Gringolts, Henning Kraggerud, Lu Siqing, Josef Špaček, Maxim Vengerov, Soyoung Yoon and jury chair Pamela Frank.
The Menuhin Competition 2016 Senior Division was won by Ziyu He, while Yesong Sophie Lee triumphed in the Junior Division.
Visit the Menuhin Competition website for full details.