A high-profile premiere might help young composers launch their career, but the story shouldn't end there, says Tom Stewart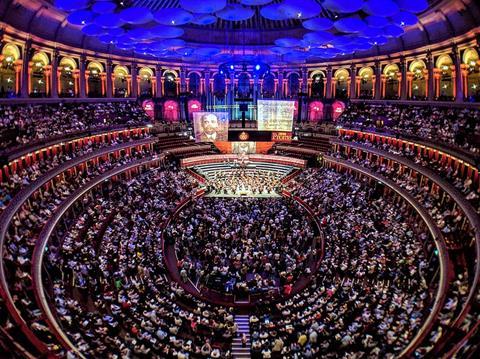 A BBC Proms concert in 2017
I recently heard a performance of Schoenberg's Five Pieces for Orchestra at the BBC Proms, 107 years after they received its premiere there, conducted by Henry Wood. Even among those of us who actively enjoy seeking out 'contemporary' music to play or listen to, Schoenberg has a bit of an image problem. With the possible exception of Verklärte Nacht and a couple of other early works, his music has a reputation for leaving audiences cold – not everyone shares his determination to liberate music from tonality at all costs.
Not that this is anything new: a review of the 1912 premiere of the Five Pieces in these pages declared that Schoenberg's music 'will remain a puzzle for a long time, though that is no reason why it should not be listened to with a serious endeavour to understand the method of writing'.
If I'm honest, I wouldn't have considered myself a huge fan either, but listening to the Five Pieces I was mesmerised. They sounded so fresh, colourful and strange that, if you'd asked me, I'd have guessed they were written within the past few decades. I did not go to the concert to listen to the Schoenberg but it turned out to be the best thing I heard all evening.
But although it was my first time hearing it in concert, putting on the Five Pieces is hardly a groundbreaking move. So much genuinely new music, on the other hand, is only ever performed once before being consigned to the recycling bin of history. How many of the 20 pieces receiving their world premiere at this year's Proms will ever be heard again? Without more opportunities to listen to and get to know a score, audiences have no chance to develop a relationship with it or its composer. Instead, like me, they depend on half-baked assumptions about how something sounds and may well choose to steer clear as a result.
It boils down to cash, of course, but it's also no secret that pure market economies do not a vibrant arts landscape make. This is why organisations exist to fund and promote engaging and exciting work that doesn't (yet) have a reliable paying audience. Such institutions are rightly praised for taking risks by commissioning daring new works. It would be even better, though, if they were to guarantee one or two performances at a later date as well. After all, it wasn't as if the Proms audience went mad for the Five Pieces the first time they heard them. As our critic reported somewhat cryptically: 'The indiscrimination of the Promenade audiences is not a healthy sign as seeming to shew that the aesthetic enjoyment is not founded upon a firm basis.'
A few years ago, the Association of British Orchestras and the UK Performing Rights Society created a catalogue of all orchestral pieces written by British composers since 1990, intended to make life easier for groups wanting to perform one of them again. As well as collating information including audio, video and performance materials, the 'Resonate' scheme offers grants to cover musicians' costs. There's a small handful of pieces by living British composers that receive repeated performances and enjoy a degree of audience familiarity (if not always appreciation) as a result. The proportion is tiny, though, so we need more schemes like this one to give composers a better chance of developing connections with the musicians who are able to bring their work to new audiences.
I'm not suggesting that we should listen over and over again to 'new' music from the past at the expense of looking ahead to the future. It's more important than ever that original voices make it into the concert hall and in this respect, slowly but surely, some progress is being made. But promising a big premiere without working to support a sustainable relationship between the composer and their audience will not help a piece achieve its full potential. Properly investing in new composers and their music means realising the first performance is not – or rather shouldn't be – the final word.