The 25-year-old US violinist receives €25,000 and concert opportunities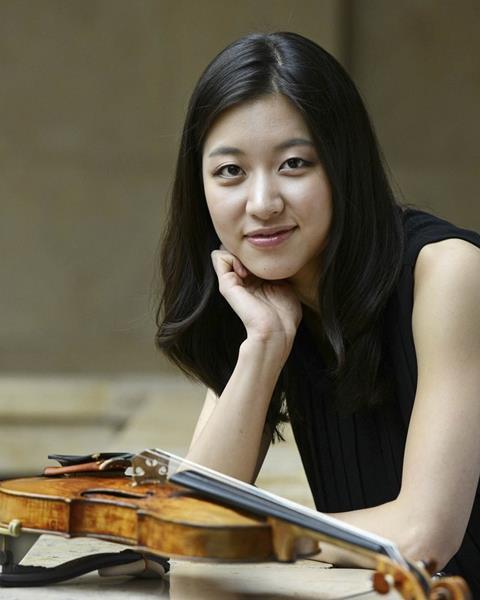 Christel Lee has been named the winner of the 11th International Jean Sibelius Violin Competition. The 25-year-old US violinist, of South Korean heritage, receives €25,000 and will perform at a number of high-profile events – including with the Finnish Radio Symphony Orchestra at the Jean Sibelius 150th Anniversary Concert in Hämeenlinna on 8 December and with the Helsinki Philharmonic Orchestra in the UK on 10 and 12 December.
Second prize, worth €18,000, goes to Emmanuel Tjeknavorian from Austria, who also receives the special prize of €3,000 for the best interpretation of the Sibelius Concerto. Third prize, worth €12,000, goes to Friederike Starkloff from Germany, who also receives the special prize of €2,000 for the best performance of the commissioned work.
The remaining three finalists - Mayumi Kanagawa from the USA, Minami Yoshida from Japan and Nancy Zhou from the USA - each receive €2000.
Lee, who studied at New York's Juilliard School with Kyung Wha Chung and won second prize at the ARD Music Competition in Munich in 2013, performed the required Sibelius Concerto and her choice of Bartók's Second Violin Concerto in the final.
'I didn't expect to win, I just wanted to play well,' she told The Strad following the result. 'Choosing Bartók might have been a risk, but I really wanted to learn the work – it has a different language, with completely different colours and ways of expression – and the competition gave me a reason to perform it. I needed to tap into a different world – to keep my cool, yet still be able to create this fire.'
This year's Sibelius competition received a record number of applicants – 234 entries from 29 countries. The jury comprised Pierre Amoyal, Serguei Azizian, Sigrún Edvaldsdóttir, Pekka Kauppinen, Sung-Ju Lee, Cho-Liang Lin, Gerhard Schulz and Krzysztof Wegrzyn.
The 10th Sibelius Violin Competition in 2010 was won by Nikita Boriso-Glebsky.
For full details visit the Sibelius Competition website.
Photo: Dorothee Falke
Read: International Jean Sibelius Violin Competition 2015 names 6 finalists