For the German cellist, imagining how Tchaikovsky might have viewed the rococo period was key to reinterpreting his Rococo Variations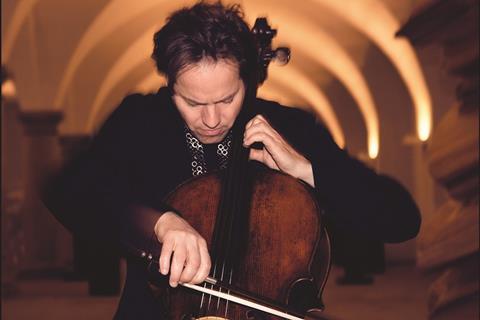 I was around nine years old when I first heard Tchaikovsky's Rococo Variations. Both my father and mother played in orchestras in East Berlin, and Russian works were quite dominant in the repertoire. I was fascinated by the Tchaikovsky straight away – it's a piece that young cellists can admire because it demonstrates all the possibilities of the cello in a transparent way. It was also very understandable, whereas many cello concertos require a degree of maturity to appreciate. And I saw there wasn't a big orchestra behind the soloist, so one can hear the cello all the time.
I didn't try to learn the piece myself until I was around 16, and it wasn't until I was 21 that I played it with orchestra. I studied the piece with Josef Schwab, who had a very elegant approach to the piece – he made it sound lyrical rather than virtuosic. I didn't find it difficult to learn; you only realise how hard it is after performing it. For me, the most important thing was to understand what Tchaikovsky, a Romantic composer, thought about the rococo period. Walking around St Petersburg you see so much rococo architecture and decoration, and you realise that the key is to play the Rococo Variations with style and beauty, rather than late-Romantic virtuosity. This was one reason why I went back to Tchaikovsky's original score, and eventually decided to create a new version that felt more in keeping with his intentions.
Most people still play the version made by the German cellist Wilhelm Fitzenhagen, who dropped the final variation, switched round the order of the others, and made other changes throughout the solo part. Two years ago I went through his version and the original to work out why he'd made every change. He'd increased the drama of the piece, which I liked, but I thought his decision to cut the last variation was illogical, especially in such a short work. I think he had a right to say it didn't work so well at the end, but it's a beautiful variation. So I kept the Fitzenhagen order but inserted the last variation after the slow variation it follows in the original score (Fitzenhagen's Variation no.3) and added a one-bar cadenza of my own to end it. It adds a fast variation to the middle of the piece, and now the whole thing runs two minutes longer than before.
'I liked how Fitzenhagen had increased the drama of the piece': Jan Vogler
One danger when it comes to learning the Rococo Variations is that there are so many excellent recordings and interpretations already. Rostropovich played in a big, bold style with extreme tempos, whereas Yo-Yo Ma focused on colours and imagination rather than tempo and dynamics. Those recordings are so famous that it's hard to connect the piece with one's own style of playing. When I look at a score, it's so that I can understand the composer's intentions in order to find my own inspiration.
My advice to a young cellist learning the piece would be: think about how you want to hear it. The hardest part is not to be led by the technical challenges, but the style and musical language. You can't have everything – you can play it superfast like Rostropovich but you'd lose some of the style of Tchaikovsky's time. In recent years a huge amount has been rediscovered about 19th-century performance practice, and I think that Tchaikovsky has been mostly excluded from it. There's potential for cellists to look again at works from that era, and see how our current interpretation of them might be different from that of the time they were written. There's also the opportunity to compare the Rococo Variations with other pieces by Tchaikovsky: the Souvenir de Florence and related works that have a similar tonal language.
This article was first published in the December 2015 issue of The Strad
INTERVIEW BY CHRISTIAN LLOYD