The violinists will each perform a substantial concerto on 8 and 9 October before the winner of the €50,000 first prize is announced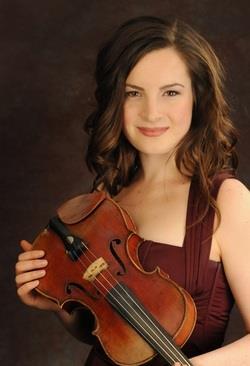 The 2015 Joseph Joachim International Violin Competition Hannover has announced the six players who have made it through to the finals. A total of twelve candidates performed and directed Mozart concertos with the Munich Chamber Orchestra in the semi-finals, and also gave a separate recital.
The six finalists are:
- Amalia Hall (New Zealand) - pictured
- Sergei Dogadin (Russia)
- Benjamin Marquise Gilmore (The Netherlands / USA)
- Shion Minami (Japan)
- Ayana Tsuji (Japan)
- Richard Lin (Taiwan/USA)
Each remaining candidate will perform a substantial concerto with the NDR Radiophilharmonie conducted by Hendrick Vestmann on 8 and 9 October before the winner is announced late on Friday evening.
First prize is €50,000, a CD production with Naxos, and concerts with internationally renowned orchestras and ensembles.
Sitting on this year's jury are Italian violinist Salvatore Accardo, Russian violinist Boris Kuschnir (pictured), Dutch violinist Rudolf Koelman, Romanian violinist Silvia Marcovici, American violinist Lucie Robert, Finnish violinist Kaija Saarikettu, Japanese violinist Takashi Shimizu, Chinese violinist Weidong Tong, and German violinist Ingolf Turban.
Launched in 1991, the Joseph Joachim Competition takes place every three years in Hannover, central Germany. Violinists between the ages of 16 and 27 are invited to compete in five competition rounds for a total of €140,000 in monetary prizes.
In 2012, for the first time the top award was presented to two violinists: Moldovan Alexandra Conunova, most recently joint bronze medallist at the International Tchaikovsky Competition; and South Korea's Dami Kim, another finalist at Indianapolis in 2014.
See a full list of the original 39 candidates for 2015.
For full details visit the Joseph Joachim Competition website.
Photo: Koru Artists