With a top prize of €25,000, the competition launches this weekend in Finland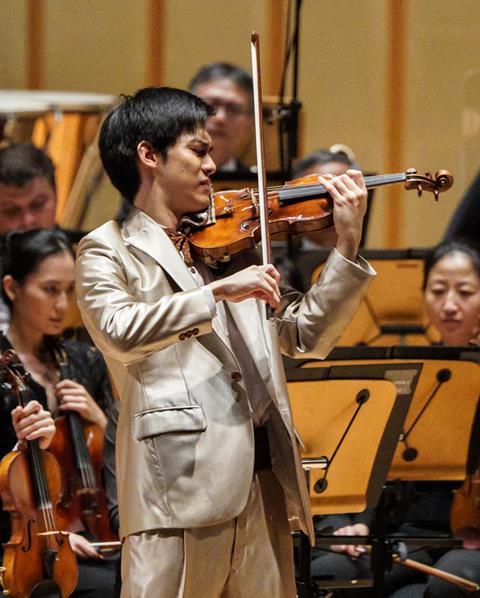 The 11th International Jean Sibelius Violin Competition launches with an opening ceremony on Sunday 22 November at Helsinki Conservatory.
The competition, which offers a first prize of €25,000, received a record number of applicants this year – 234 entries from 29 countries. Of these, 45 contestants will take part in three live rounds, culminating in a final from 1-3 December, in which six remaining violinists will perform both the Sibelius Concerto and another large-scale concerto with the Helsinki Philharmonic Orchestra and the Finnish Radio Symphony Orchestra.
The 45 shortlisted competitors feature a number of familiar names, including 2015 Queen Elisabeth Competition finalist Bomsori Kim; Richard Lin (pictured), who came second at the 2015 Singapore International Violin Competition and third at the 2015 International Joseph Joachim Violin Competition Hannover; fellow 2015 Singapore International Violin Competition finalist Fedor Rudin; Friederike Starkloff, new concertmaster of the NDR Radiophilharmonie in Hannover; and Diana Tishchenko, who reached the finals of the 2013 International ARD Music Competition.
The full list of shortlisted candidates are:
Naoka Aoki, UK
Wonhee Bae, Germany
Hannah Soojin Cho, USA
Sarah Christian, Germany
Sara Etelävuori, Finland
Marina Grauman, Germany
Anna Göckel, France
Yoo Na Ha, France
Esther Hwang, Canada
Mayumi Kanagawa, Germany
Bomsori Kim, USA
Jeein Kim, South Korea
Da Kyung Kwak, USA
Stepan Lavrov, Poland
Christel Lee, Germany
Kerson Leong, Canada
Zeyu Victor Li, USA
Richard Lin, Taiwan
Tikhon Lukiyanenko, Russia
Kyung Ji Min, USA
Rustem Monasypov, Switzerland
Yasuka Morizono, Germany
Katerina Nazarova, UK
Seiji Okamoto, Japan
Taejun Park, Japan
Pekko Pulakka, Finland
Fedor Rudin, France
Anna Savkina, Russia
Lev Solodovnikov, Russia
Friederike Starkloff, Germany
Elly Suh, USA
Ryosuke Suho, Japan
Mai Suzuki, Austria
Elena Tarosyan, Russia
Stephen Tavani, USA
Diana Tishchenko, Germany
Emmanuel Tjeknavorian, Austria
Kasmir Uusitupa, Finland
Juho Valtonen, Finland
Xiao Wang, USA
Jungyoon Yang, Austria
Minami Yoshida, Japan
Laura Zarina, Germany
Eva Zavaro, France
Nancy Zhou, USA
This year's jury comprises Pierre Amoyal, Serguei Azizian, Sigrún Edvaldsdóttir, Pekka Kauppinen, Sung-Ju Lee, Cho-Liang Lin, Gerhard Schulz and Krzysztof Wegrzyn.
The 10th Sibelius Violin Competition in 2010 was won by Nikita Boriso-Glebsky.
For full details visit the Sibelius Competition website.