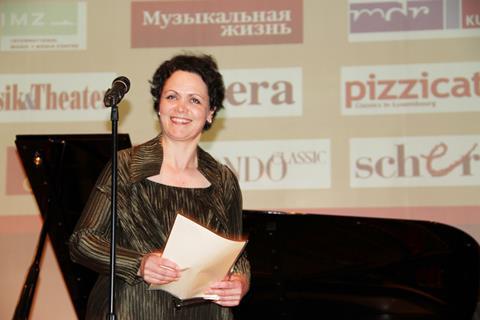 The International Classical Music Awards, given annually to the year's finest classical artists and recordings, were announced on 1 April at a ceremony in the Leipzig Gewandhaus, Germany. Among the special prize winners was viola player Tabea Zimmermann (pictured), who received the Artist of the Year award. 'As an open-minded artist [Zimmermann] has been the protagonist of many newly written works including numerous world premieres,' read the citation, which also said she had 'gained recognition for her stylistic breadth and her enthusiasm in exploring new repertoire for her often neglected instrument'.
The evening's other award winners included Carolin Widmann for her recording of the Mendelssohn and Schumann violin concertos with the Chamber Orchestra of Europe; violinist Julia Fischer and cellist Daniel Müller-Schott for their album Duo Sessions; and cellist Gautier Capuçon for his collection including Szymanowski's Overture op. 12 and Lutoslawski's Cello Concerto.
Liechtenstein-based chamber orchestra Ensemble Esperanza, founded in 2015 by students at the country's International Music Academy, received a Special Achievement award. 'Caring more for deep musical expression than for musical fireworks, it truly plays in a league of its own,' said the citation.
At the ceremony, Tabea Zimmermann played Weber's Andante e Rondo ungarese, while Daniel Müller-Schott performed from Tchaikovsky's Rococo Variations.
Photo: Serhan Ball