BBC Radio 3's young classical talent platform accepts Aleksey Semenenko, Quatuor Arod and Misha Mullov-Abbado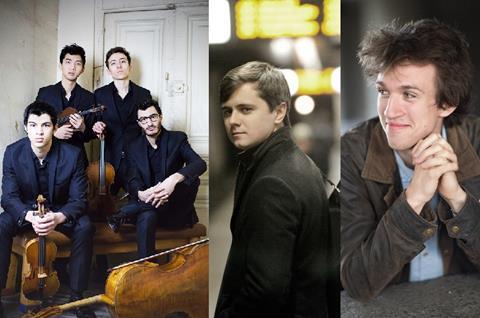 The BBC has announced the 2017 intake to its New Generation Artists (NGA) scheme, a platform for emerging classical and jazz musicians run through Radio 3.
Ukrainian violinist Aleksey Semenenko, the France-based Quatuor Arod and jazz bassist Misha Mullov-Abbado are the string players announced for the 2017-19 period, along with mezzo-soprano Catriona Morison, pianist Mariam Batsashvili, guitarist Thibaut Garcia and trumpeter Simon Höfele.
The scheme offers its members a two-year raft of opportunities to perform live and in the studio, work with BBC orchestras and collaborate with other NGAs.
Starting in 1999, the scheme has boosted the careers of numerous now established musicians, including Lisa Batiashvili, Tai Murray, Veronika Eberle, Alban Gerhardt, Leonard Elschenbroich, Ilya Gringolts, Antoine Tamestit, Maxim Rysanov, Alina Ibragimova, and the Belcea, Ebene and Danish string quartets.
BBC Radio 3 also announced a new weekly programme devoted to the scheme, to run on Wednesday afternoons from 4 October, featuring new material from current NGAs as well as recordings from the archive.
Aleksey Semenenko, born in Ukraine, performed his first concerto with the Odessa Philharmonic Orchestra at the age of seven, and has gone on to play with the Moscow Virtuosi, the Kiev National Orchestra, the Junge Philharmonie in Cologne and the Sinfonietta Hungarica. Through the 2012 Young Concert Artists International programme, he played recitals at Merkin Concert Hall, New York, and the Kennedy Centre, Washington D.C.
Quatuor Arod was set up in 2013 by Jordan Victoria and Alexandre Vu (violins), Corentin Apparailly (viola) and Samy Rachid (cello). It quickly went on to win first prize at the Carl Nielsen Chamber Music Competition and the FNAPEC European Competition (both in 2015) and the ARD International Chamber Music Competition (2016).
The quartet has performed at festivals, including Verbier, Montreux and Aix-en-Provence and is currently artist-in-residence at the Queen Elisabeth Music Chapel in Brussels.
Misha Mullov-Abbado is a jazz double-bassist, band leader and composer educated at Cambridge University and the Royal Academy of Music. He won the Kenny Wheeler Jazz Prize and the Dankworth Prize in 2014 and performs widely with his own group and others and well as composing for other groups.