The violinist and professor was brought up in the Hungarian tradition, which offered him the secrets of how to defy gravity, writes Jessica Duchen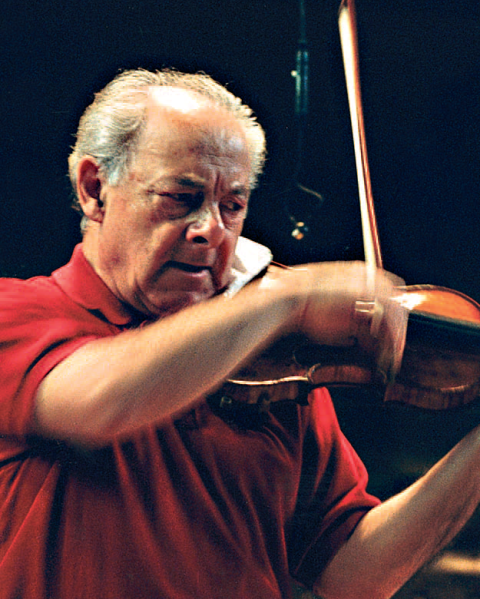 The two greatest influences in my musical development have been my violin teacher Ede Zathureczky and Leó Weiner, the legendary musician who taught chamber music and brought up three generations of great Hungarian interpreters, including the Lehner and Waldbauer Quartets, the conductors Antal Dorati and Georg Solti, and the cellists Janos Starker and Laszlo Varga.
Zathureczky was a pupil, and later assistant, of the renowned Hungarian violinist and teacher Jenö Hubay, founder of the 'Hungarian violin school'. Hubay's teaching was based on the great romantic tradition of Vieuxtemps and Wieniawski, to which he added his own thoughts and methods, both in musical and technical matters. He concentrated on the means of producing a free-flowing, warm sound and the importance of the bow arm.
Zathureczky's masterclass at the Franz Liszt Academy consisted of the most talented violinists – focusing mostly on developing soloists – over the age of 20. I joined the academy extremely young and was the youngest when he accepted me into his class – only 13. He was a paternal figure for me, and a great inspiration. He took it for granted that each player's technical level was high enough to be able to concentrate mainly on musical issues. Being a performer on a grand scale himself, he was able to convey the best way to perform on stage with an orchestra: how to project and control one's sound, as well as one's timing. He was a big star, the top violinist of his time, but as a performer he was rather nervous. His playing was totally different when he demonstrated during lessons, though, because then he was relaxed.
I have followed his advice all my life and have been trying to pass it on to my students. Playing the violin is difficult. We are in an unnatural position, fighting against and controlling gravity: hence the importance of bow control. Acting against our natural reflexes, we have to hold the bow with our fingers without undue pressure, keeping the wrist free. My students always laugh when I say, 'Get a pencil – is it any problem?' The bow is the same, only heavier. You have to hold it in such a way that is firm yet absolutely relaxed; you should be able to control it in the way you can the pencil. This was one of Hubay's most important teachings.
Another focus of his was bow speed; controlling this is one of the great difficulties, because one is constantly fighting against gravity. We have to control gravity as if without any effort – that is perfect bow control. The free flow of a big, warm sound comes from the weight of the arm, without force, and our wrist has to be free. If you apply pressure to the bow you kill the sound. Zathureczky demonstrated and proved this perfectly in his lessons.
I am also grateful that I learnt Bartók's music from Zathureczky. He knew Bartók well and partnered him several times in concerts. His understanding and knowledge of the great composer's music originated from source and he passed it on to me. With him I studied the Second Violin Concerto, the rhapsodies and the Solo Sonata. I learnt the unique nature of Bartók's music, the importance of his rhythm and the precision of his phrasing. Accents should always be on the first beat of the bar, just as the Hungarian language accents the first syllable of a word. Bartók's music should not be played romantically, as I hear it quite often now. Everything in his style is derived from folk music.
Zoltán Kodály, who was closely associated with Bartók, taught us Hungarian folk music at the academy as a compulsory part of the curriculum. He had a great mind; when we were listening to his lectures, we didn't understand half of it, but it was a huge honour to know him.
Chamber music was also compulsory at the academy, and I had the privilege to study with the great master Weiner. I worked through a huge amount of the string quartet repertory with my own group, as well as the violin-and-piano literature. Chamber music became a very important and beloved part of my musical life, and it helped me to develop my solo work. From Weiner I learnt always to look 'behind the notes', as he used to say: to find the essence and profound insights within the music. He taught his students to honour and be utterly faithful to the composer's wishes.
Zathureczky's and Weiner's influences have remained with me throughout my concertising career, as well as in my teaching activities.
This article was first published in The Strad's August 2006 issue. Subscribe to The Strad or download our digital edition as part of a 30-day free trial. To purchase single issues click here.