Julian Haylock reviews the autobiography of violinist and Royal Academy of Music pedagogue György Pauk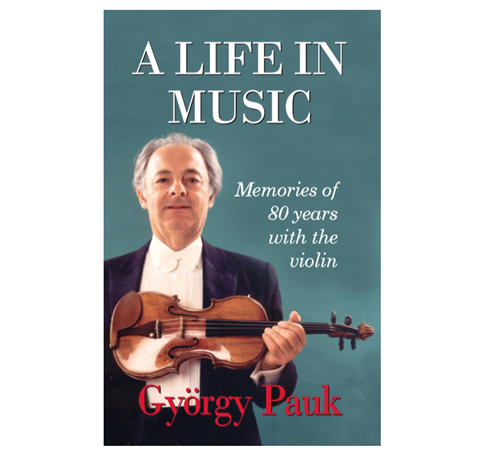 A Life in Music: Memories of 80 years with the violin
György Pauk
248PP ISBN 9781527293229
GP Publications £15
This book is available at The Strad Shop
Throughout his long career, Hungarian violinist György Pauk has enjoyed a glowing reputation, not only as an acclaimed virtuoso soloist but also as an outstanding chamber musician. On disc he demonstrates an extraordinary ability to immerse himself in a composer's unique sound world, without any sense of distracting interpretative intervention. In this important regard, he can be viewed as the last great exponent of the modern Hungarian school of playing (including Hubay, Szigeti and Székely), whose origins can be traced back to Joseph Joachim. Indeed, Pauk sees himself, in 'a pedagogical sense' as 'Joachim's great-grandson'.
The nobility, humanity and sonic allure of Pauk's playing developed out of his childhood years. Tragically he lost both his parents in the Holocaust and spent the remainder of the war with his grandmother in the Budapest Ghetto, from which his overriding memory is being painfully hungry. So powerful was the impact of near-starvation that, until his formal retirement from the concert stage, Pauk invariably packed 'some fruit, cheese or biscuits' in with his concert gear, just in case. Yet it was music that ultimately pulled him through leading to his enrolment at the Liszt Academy at the tender age of 13. Here his principal influences were his professor, Ede Zathureczky, who had played concerts with Bartók and had intimate knowledge of his violin works; Leó Weiner, a remarkable pedagogue whose other students included Georg Solti, Antal Doráti, János Starker and Laszlo Varga; and Zoltán Kodály, whose uncompromising regime was based around his insistence that one should aspire to know 'everything'. Of the various violinists Pauk heard 'live' at this time, two stood out that one can fascinatingly detect as influences on his playing every bit as powerful as his day-to-day teachers: David Oistrakh and Christian Ferras.
The 1950s were pivotal for Pauk in establishing his international reputation. Wins at the Paganini and Jacques Thibaud competitions, marriage to Zsuzsa Mautner and a liberating spell working in the Netherlands led to contact with Yehudi Menuhin, who suggested he move to Britain. In 1961 Pauk settled in London and never looked back, taking British citizenship in 1967.
The rest, as they say, is history, yet Pauk's recollections are so astute and insightful, and told with such warmth and charm, that one is irresistibly drawn into the narrative. Unusually for a performing musician, Pauk has a writing style that elicits the same generosity of spirit and love of life as his actual playing. Highlights abound, including his enduring contact with distinguished British orchestra leaders Rodney Friend and Béla Dékány, having himself been offered the leadership of the LSO quite early on – and turning it down! Everywhere, Pauk's light touch is evident, especially when recalling some of the funnier experiences of concert life, such as trying to locate the lavatory in his suite at Harewood House and close to desperation eventually locating it, disguised as a 'beautifully carved armchair'.
The chapter on tours to South Africa, Australasia, South America, Hong Kong, Japan, the US and Japan is worth the price of admission alone. Another delightful touch is the 20-page appendix with recollections and reflections by family, friends, professional colleagues and former students, which affectionately confirms Pauk's status as one of the most gifted and widely admired musicians of his generation.
JULIAN HAYLOCK