Kazakhstan-born Anna Markova was due to perform with Le Cercle de l'Harmonie on 22 July 2016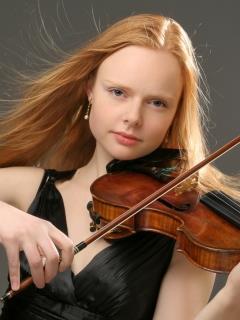 A violinist due to perform at the BBC Proms in London's Royal Albert Hall has fallen victim to the prolonged UK visa application process.
Kazakhstan-born Anna Markova, who is based in Germany, was set to play with French early music ensemble Le Cercle de l'Harmonie on 22 July 2016 in a programme including Mendelssohn's 'Italian' Symphony and Mozart's Symphony no.39 conducted by Jérémie Rhorer.
However, according to the violinist, the length of time needed to apply for a modest three-day visa has forced her to withdraw from the concert and the orchestra to contract a replacement player.
Markova has published an angry response on her Facebook page:
'Great? Britain? If you are really so Great, why are your conditions to get a visa so small-minded, so degrading? Is it not a sheer insanity to prevent the European musicians with non-EU citizenship from coming to your country - for only three days, even with the personal invitation from the BBC Proms!
'I spent one month of my life and a lot of money to gather all the necessary papers in the right time. I had to give full information about me, such information like my income since the last six months, and not only the income, but also my bank statements for the six months - all that only to play one concert. And now all this is for nought, because the orchestra cannot wait any longer, they have to invite another violinist, because the concert is in three days and I don't have the answer about my visa till now, and I will not get it in time, although I paid for the visa.'