The €15,000 award is given annually during the Musikmesse trade fair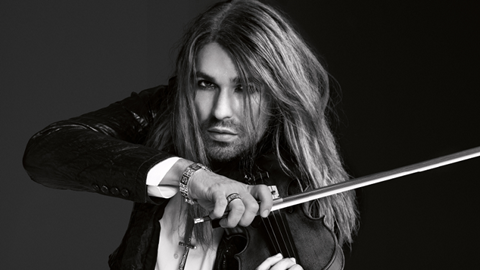 David Garrett is to receive the Frankfurt Music Prize 2017, worth €15,000. The award is given annually during the Musikmesse trade fair to 'personalities whose work represents a special contribution to the worldwide music scene and culture'.
The German violinist will be presented with the prize in St Paul's Church, Frankfurt, on 7 April, where he will also give a brief performance.
'The trustees of the Frankfurt Music Prize acclaim David Garrett as an artist who is able to introduce innumerable people to classical music via his crossover projects and, simultaneously, awaken interest in classical music with his chamber-music evenings and orchestra concerts,' reads a statement on the Musikmesse website. 'The trustees also draw attention to Garrett's desire to document his personal roots in top-class international classical music via projects focusing exclusively on classical works.'
Previous prize winners include mezzo soprano Anne Sofie von Otter, composer György Ligeti, baritone Dietrich Fischer-Dieskau, conductor Georg Solti, pianist Alfred Brendel, violinist Gidon Kremer, rock musician and drummer Udo Lindenberg and singer-songwriter Peter Gabriel.
Watch: David Garrett tries out Stradivari and Guarneri 'del Gesù' violins