Hungarian luthier Gábor Draskóczy scores double gold in violin category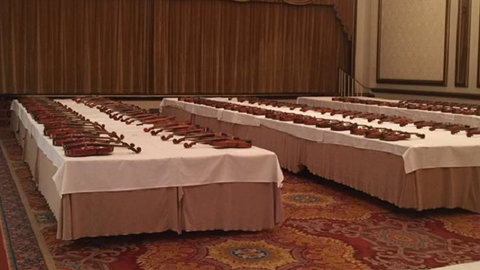 Ten gold medals were awarded at this year's Violin Society of America international makers' competition, held in Cleveland, Ohio, from 13–18 November. Eight of these were given to bow makers, while the only two to be awarded in the instrument categories went to Gábor Draskóczy. The Hungarian-born luthier, who works as head of new making at Florian Leonhard Fine Violins in London, received a double gold for tone and workmanship in the violin category.
Among the silver medallists for violin (workmanship) were Yunhai Zu (China), who won a gold for cello at the China International Violin Making and Bow Making Competition, held earlier this year; Piotr Pielaszek (Poland), a finalist in this year's International Henryk Wieniawski Violin Making Competition; and Andrew Ryan (US), whose article on fingerboard fitting appeared in The Strad's Trade Secrets section in April 2012.
Martin Héroux (Canada) won the only silver medal (tone) in the viola category, while six silvers were awarded for cello. For double bass, US maker Robert McIntosh won the only medal, a silver for tone. Kevin Kelly (US), another contributor to The Strad's Trade Secrets section, won a silver for tone in the string quartet category, where Hayato Nagaishi, a Japan-born maker based in Cremona, won a silver for workmanship. Nagaishi, who received an honorable mention at the 2015 Cremona Triennale, also won a silver for cello (tone).
Bow makers Cody Kowalski (US) and Emmanuel Bégin (France) won three gold medals apiece, each winning in the violin, viola and cello categories. Other gold medallists were Eric Fournier and Emmanuel Carlier, both from France.
The 2016 competition attracted 274 competitors from 22 countries, and from 27 US states. The competing instruments comprised 197 violins, 102 violas, 60 cellos, 8 double basses, 26 string quartets and 60 bows. While the number of gold medals was up from 2014, when nine were awarded, the record stands at 16 golds, awarded in 2012 – 5 for instruments and 11 for bows.
Full list of winners:
VIOLIN
Double Gold Medal for Tone and Workmanship
Gábor Draskóczy
Silver Medal for Workmanship
Justin Hess
Yunhai Xu
Piotr Pielaszek
Rainer Beilharz
Andrew Ryan
Jinlong Yang
Certificate of Merit for Workmanship
Michael Doran
Antoine Nedelec
Ryan L Soltis
Eduard Miller
Philip Ihle
Stephan von Baehr & Emilio Crabbé
Shu-Wei Xiao
Christian Schabbon
Fabienne Gauchet
Alina Kostina
VIOLA
Silver Medal for Tone
Martin Heroux
Certificate of Merit for Workmanship
Ryan L Soltis
Yunhai Xu
Shiquan Zhao
Hayato Nagaishi
Marcus Klimke
Certificate of Merit for Tone
Evan Davenport
Zhongqiu Chang
Jian Hua Xie
Zhiling Liang & Zhenyu Liang
Gary Garavaglia
CELLO
Silver Medal for Workmanship
Guy Harrison
Hayato Nagaishi
Peter Goodfellow
Silver Medal for Tone
Mira Gruszow & Gideon Baumblatt
Benjamin Wilke
Lawrence Wilke
Certificate of Merit for Workmanship
Michael Doran
Certificate of Merit for Tone
Andrew Carruthers
DOUBLE BASS
Silver Medal for Tone
Robert McIntosh
Double Certificate of Merit for Tone and Workmanship
William Lakeberg
Certificate of Merit for Workmanship
Joey Naeger
Certificate of Merit for Tone
Arnold Schnitzer
Trevor Davis & David Briggs
Christopher Savino
STRING QUARTET
Silver Medal for Workmanship
Hayato Nagaishi
Silver Medal for Tone
Kevin Kelly
Certificate of Merit for Workmanship
Shuide Mai & Huo Rong Jiang
Mira Gruszow & Gideon Baumblatt
Certificate of Merit for Tone
Haide Lin & Zu-Liang Wu
Martin Heroux
Yi Huan Wang
VIOLIN BOW
Gold Medal
Cody Kowalski
Emmanuel Bégin
Emmanuel Carlier
Certificate of Merit
Paul Goh
Eric Fournier
Victor Bernard
David Hawthorne
VIOLA BOW
Gold Medal
Eric Fournier
Cody Kowalski
Emmanuel Bégin
Certificate of Merit
Joséphine Thomachot
Paul Goh
Eric Gagné
Emmanuel Carlier
CELLO BOW
Gold Medal
Cody Kowalski
Emmanuel Bégin
Certificate of Merit
Emmanuel Carlier
Eric Gagné
Eric Fournier
BASS BOW
Certificate of Merit
Satoshi Kamata & Hitoshi Takeda
Emmanuel Bégin
Susan Lipkins
Steven DeCoux
Image: courtesy VSA