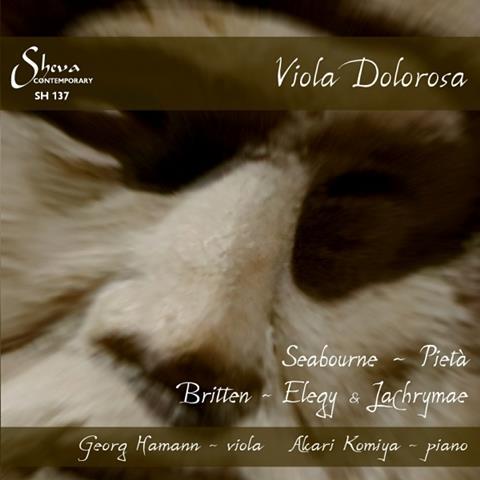 The Strad Issue: December 2015
Description: A finely wrought new addition to the viola and piano repertoire
Musicians: Georg Hamann (viola) Akari Komiya (piano)
Composer: Britten, Seabourne
The three compositions united under this recital's somewhat masochistic title variously explore the mood of 'deep sadness' that Berlioz singled out as the viola's main characteristic. Britten wrote the unaccompanied Elegy upon leaving school in 1930, and Lachrymae as a world-famous composer 20 years later, but they both show unmistakably the same musical signature. In the earlier piece, Georg Hamann doesn't always follow the composer's highly idiosyncratic fingerings – Britten was himself a violist – but duly notes them and observes their spirit in an eloquent reading. The opening of Lachrymae is taken hypnotically slowly, cannily camouflaging the Dowland theme. After forcefully characterising the various variations, the duo goes on to achieve a movingly beautiful close.
At 37 minutes, Peter Seabourne's Michelangelo-inspired PietÁ is a monumental addition to the repertoire. Its beautifully swaying opening Berceuse is followed by a fierce 'Enigmas' movement, redolent of Bloch's 1919 Suite. The central Elegy features a chromatic bass-line, above which the viola plays a plangent melody in harmonics. After a long, multi-sectional fast movement, the finale features the sound of tolling bells in the piano and some bittersweet, consoling harmonies. Hamann – to whom the piece is dedicated – and Komiya make an excellent case for this player-friendly, beautifully written composition. The lifelike recording reflects well the players' wide dynamic range.
CARLOS MARÁA SOLARE