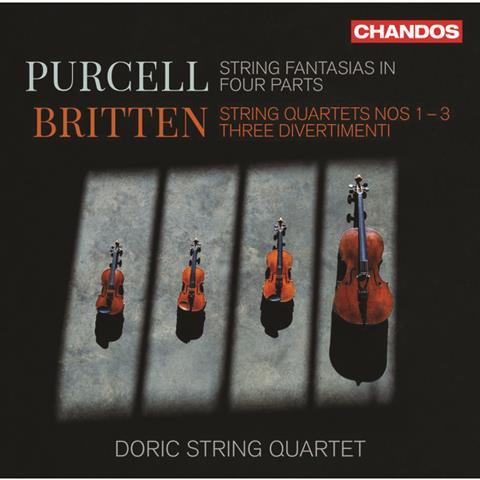 The Strad Issue: June 2019
Description: Britten's own viola takes centre stage in the composer's quartets
Musicians: Doric Quartet
Works: PURCELL String Fantasias in Four Parts BRITTEN String Quartets nos 1–3; Three Divertimenti
Catalogue Number: CHANDOS CHAN 20 124(2) (2CDS)
These recordings of Britten's String Quartets have a special connection to the composer: the violist Hélène Clément plays Britten's own viola, made by Francesco Giussani in 1843, which previously belonged to Britten's teacher Frank Bridge; they include six of the Fantasias by Purcell, a composer Britten adored; and the recordings were made on the composer's home ground of the Maltings, Snape.
The First Quartet has some startling dynamic contrasts at times, between the ppp opening of the first movement and the Allegro sections, and between the all but inaudible opening of the second movement and the ferocity of the ff interjections, before it gets into its bone-dry stride. A clear thread runs through the complex emotional landscape of the Andante calmo, with rapt playing in the Tempo tranquillo. The finale kicks off in a blaze of highly strung energy.
In the opening movement of the Second Quartet the Doric players neatly convey the shifting senses of certainty and unease. The leader Alex Redington brings a louche touch to his double-stopped octaves in the busy Vivace, and the shifting characters in the finale Chacony are beautifully caught.
There is a fine sense of the music shifting in and out of focus in the opening of the Third Quartet. Redington plays the high, slow moving solo in the third movement with shining tone and peerless legato, and the final movement, 'La Serenissima', has a wonderful expressive melancholy.
The three Divertimenti have bold primary colours, with grace in the central waltz; Purcell's Fantasias are vibrato-free and expressive. The recording is clear and resonant.
TIM HOMFRAY