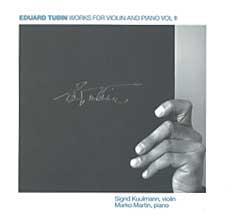 The Strad Issue: January 2014
Description: Rare repertoire from Estonia lovingly presented
Musicians: Sigrid Kuulmann (violin) Marko Martinu(piano)
Composer: Tubin
Eduard Tubin composed a substantial amount of violin music, including two concertos as well as this first large-scale sonata by an Estonian, written shortly after completing his First Symphony in 1934. Structured in three movements – a flowing, impassioned Andante (think Franck in overdrive), a Quasi presto (whose mysterious opening recalls the central movement of the Smetana Piano Trio) and an Ostinato marciale – it is a virtuoso yet unflashy work lasting just over a quarter of an hour. Sigrid Kuulmann and Marko Martinuplay it with such devoted, passionate intensity that fleeting moments of gestural and stylistic déjÁ vu pass by virtually unnoticed.
Tubin's interest in his homeland's folk music is felt more keenly in his Suite on Estonian Dance Pieces, a delightful solo violin work in five movements that Kuulmann brings enchantingly alive with an outdoor, rustic quality that is entirely in keeping with the music's faux-naive quality. When the notes start flying, as in an arrangement of the 'Cock's Dance' from the ballet Kratt and Tubin's accompaniment for Paganini's infamous 24th Caprice, Kuulmann hurls herself into the fray with alacrity. Yet arguably the finest opus in this well-recorded recital is the Three Pieces of 1933, striking distillations of Tubin's burgeoning youthful style that Kuulmann's plangent, open tone matches ideally.
JULIAN HAYLOCK