Dennis Rooney attends Lincoln Center's Rose Auditorium on 27 January 2022 for the performance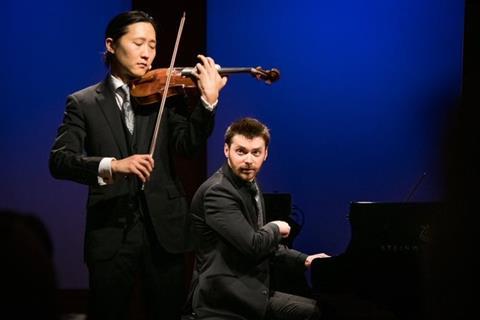 Sean Lee, a Chamber Music Society season artist, and Peter Dugan, a faculty member at the Juilliard School Extension, gave a rare performance of the 24 Paganini Caprices with piano accompaniments composed by Robert Schumann before an audience in Lincoln Center's Rose Auditorium, which was also live-streamed. Nowadays we're inclined to think that Schumann's accompaniments detract from Paganini's summa violinistica, rather than adding anything. This is chiefly because of the conflict between the inevitable production of an accent with each keystroke, particularly in the cantabile caprices, and a disproportionate emphasis on rhythm over phasing. In Caprice no.8 in E flat major, for instance, the piano hinders the violin's flow; in no.21 in A major it sentimentalises the Amoroso section. Although the two instruments don't share any melodic material, the piano accompaniment for Caprice no.4 in C minor effectively transforms it into a genuine duet.
Lee and Dugan offered exemplary teamwork in their traversal of the Caprices, played out of score order to provide plenty of variety. I only wish they had discouraged the audience from applauding after each one, thereby weakening any mood established by their chosen selection. The first dozen was followed by Dugan's solo appearance in Liszt's Paganini Étude no.2 (based on Caprice no.17) to close the programme's first half; the remaining twelve were heard after the interval. The pair's overall musical approach seemed to reflect their respective dress on stage. Lee, in a suit, was elegant both in his phrasing and the pleasing sound of his instrument, a 1995 violin by Sam Zygmuntowicz played with a Vigneron bow from c.1890. Dugan's approach at a Hamburg Steinway seemed to reflect his more casual dress (sports shirt and dungarees), with more primary colours and fewer tints.
DENNIS ROONEY
Photo: Cherylynn Tsushima