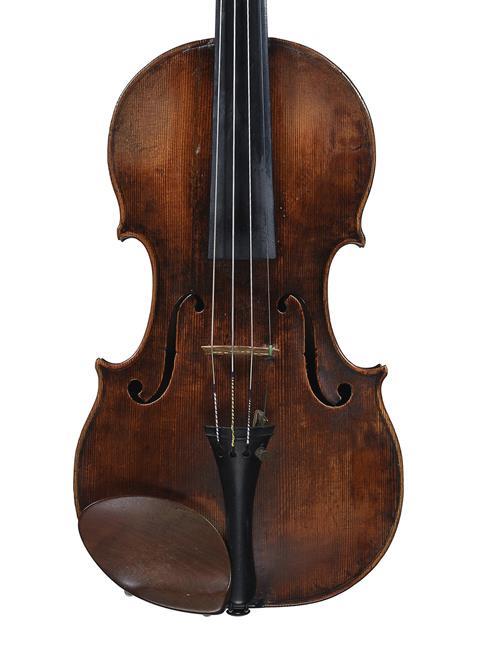 Bonhams, Brompton's, Ingles & Hayday and Tarisio have released the results of their October auctions. At Ingles & Hayday's London sale a violin owned by the violinist Leila Josefovicz and catalogued as 'probably by Michele Angelo Bergonzi' fetched £156,000, and a Storioni viola with an estimate of £100,000–£150,000 went for £276,000.
Tarisio set the record for the highest price for a contemporary violin with the sale for $132,000 of an American violin by Joseph Curtin and Gregg Alf. The estimate was $35,000–$55,000. Another highlight from the sale was the 'Dorothy DeLay' Giovanni Battista Guadagnini 1778 violin, which sold for $1,390,000.
At Brompton's' London sale a silver-mounted violin bow by Dominique Peccatte from 1845 fetched £96,000 and a cello bow by the same maker sold for £72,000.
Highlights from Bonhams included an octagonal silver mounted violin bow of the French School, with an estimate of £3,000–£4,000, which sold for £30,000. At the same sale an Italian violin by Giovanni Grancino (pictured), fetched £158,500 on an estimate of £60,000–£80,000.
Below are the top ten lots from each sale. All sale prices include buyer's premium.
Tarisio 28 October (sale closing date), London
Instruments
1 Lot 181
An Italian violin by Girolamo Amati II, Cremona, 1710
Estimate: £200,000–£300,000 Sale price £315,750
2 Lot 180
A copy of the 'Messiah' Stradivari violin of 1716 by Jean Baptiste Vuillaume, Paris, 1866
Estimate £100,000–£150,000 Sale price £163,200
3 Lot 177
A violin by Carlo Antonio Testore, Milan, 1756
Estimate £55,000–£85,000 Sale price £84,000
4 Lot 176
An Italian violin attributed to Lorenzo Storioni, Cremona, c.1775
Estimate £50,000–£80,000 Sale price £60,000
5 Lot 173
An Italian violin by Jacob Horil, Rome, c.1750
Estimate £30,000–£50,000 Sale price £51,100
6 Lot 172
A French violin by François Louis Pique, Paris, 1788
Estimate £20,000–£30,000 Sale price £48,000
7 Lot 174
An Italian violin by Giuseppe Ornati, Milan, 1921
Estimate £35,000–£50,000 Sale price £42,000
8 Lot 52
An English viola by Daniel Parker, London, c.1717
Estimate £35,000–£50,000 Sale price £41,300
9 Lot 169
A French violin by Frédéric Chaudiere, Montpellier, 1992
Estimate £18,000–£25,000 Sale price £28,800
10 Lot 51
An Italian viola made by or under the direction of Carlo Ferdinando Landolfi, Milan, c.1770
Estimate £30,000–£50,000 Sale price £28,200
Bows
1 Lot 99
A French violin bow by Eugene Sartory
Estimate £25,000–£40,000 Sale price £36,000
2 Lot 39
A French viola bow by Eugene Sartory
Estimates: £18,000–£25,000 Sale price £35,400
3 Lot 22
A French cello bow by Charles Peccatte
Estimate £16,000–£23,000 Sale price £20,400
4 Lot 98
A French violin bow by Nicolas Maire
Estimate £15,000–£22,000 Sale price £20,400
5 Lot 23
A French cello bow by Joseph Henry
Estimate £18,000–£25,000 Sale price £15,340
6 Lot 20
A French cello bow by Andre Vigneron fils
Estimate £7,000–£10,000 Sale price £10,800
7 Lot 18
A French cello bow by Victor Fetique
Estimate £4,000–£6,000 Sale price £9,600
8 Lot 21
A French cello bow by Etienne Pajeot
Estimate £9,000–£13,000 Sale price £8,260
9 Lot 96
A French violin bow by Claude Thomassin
Estimate £6,000–£9,000 Sale price £7,800
10 Lot 95
An American violin bow by Henryk Kaston
Estimate £5,000–£8,000 Sale price £7,200
Lots offered 181
Value of lots sold £1,524,054
Percentage sold 81.4
Tarisio 17 October (sale closing date), New York
Instruments
1 Lot 296
An Italian violin by Giovanni Battista Guadagnini, Turin, 1778
Estimate $800,000–$1,200,000 Sale price $1,390,000
2 Lot 295
An Italian violin by Giovanni Francesco Pressenda, Turin, 1838
Estimate $380,000–$550,000 Sale price $475,750
3 Lot 72
An Italian cello by Giovanni Grancino, Milan, c. 1701
Estimate $430,000–$600,000 Sale price $495,900
4 Lot 294
A French violin by Jean Baptiste Vuillaume, Paris, 1872
Estimate $150,000–$220,000 Sale price $228,000
5 Lot 287
An American violin by Joseph Curtin & Gregg Alf, Ann Arbor, 1985
Estimate $35,000–$55,000 Sale price $132,000
6 Lot 71
An Italian cello by Nicolo Bianchi, Genoa, 1870
Estimate $120,000–$180,000 Sale price $141,600
7 Lot 290
An Italo-American violin by Simone Fernando Sacconi, Point Lookout, 1950
Estimate $60,000–$90,000 Sale price $94,400
8 Lot 69
An American cello by Carl Becker Sr., Chicago, 1941
Estimate $60,000–$90,000 Sale price $84,000
9 Lot 70
An Italian cello, Bologna, c.1700, ascribed to Carlo Tononi
Estimate $70,000–$100,000 Sale price $81,000
10 Lot 289
An Italian violin, attributed to Francesco Gobetti, Venice, c.1720
Estimate $50,000–$80,000 Sale price $72,000
Bows
1 Lot 57
A French cello bow by Dominique Peccatte
Estimate $50,000–$80,000 Sale price $78,000
2 Lot 54
A French cello bow by Eugene Sartory, 1939
Estimate $20,000–$30,000 Sale price $66,000
3 Lot 56
A French cello bow by Dominique Peccatte
Estimate $25,000–$20,000 Sale price $29,500
4 Lot 186
A French violin bow by Charles Peccatte
Estimate $15,000–$22,000 Sale price $28,800
5 Lot 55
A French cello bow by François Xavier Tourte
Estimate $20,000–$30,000 Sale price $25,960
6 Lot 188
A French violin bow by Eugene Sartory
Estimate $15,000–$22,000 Sale price $21,600
7 Lot 168
A violin bow, ascribed to Dominique Peccatte
Estimate $4,000–$6,000 Sale price $21,600
8 Lot 190
A French violin bow by Dominique Peccatte
Estimate $15,000–$22,000 Sale price $19,200
9 Lot 187
A French violin bow by Eugene Sartory
Estimate $15,000–$22,000 Sale price $19,200
10 Lot 87
A French viola bow by Emile Auguste Ouchard
Estimate $10,000–$15,000 Sale price $18,000
Lots offered 296
Value of lo