Two musicians left alone on the tarmac with no further direction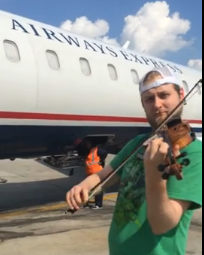 Two violinists from string ensemble Time For Three were left stranded on the tarmac at Charlotte Douglas International Airport on the weekend when the captain and crew decided that their violins were not allowed in the cabin. Zachary De Pue (pictured) and Nicolas Kendall were flying to meet bassist Ranaan Meyer to play at the Artosphere Arts and Nature Festival in Fayetteville, Arkansas.
'They literally left us alone on the tarmac without any direction,' wrote Kendall. 'Are violins dangerous? It's hard enough to make it as a classical musician. Cut us some slack, please.'
US Airways gives guidelines for carrying musical instruments on its website: 'Musical instruments are permitted as carry-on baggage as long as they can be safely stowed and have dimensions no greater than 75 inches/190 cm (length + width + height) – 49in/124 cm + 16in/41 cm + 10in/25 cm'
The two violinists posted a video of their plight on YouTube, stating 'This is unbelievable. We fly here all the time. We have to fight this. This is wrong'. Watch the video below:
The classically trained, multi-genre spanning string trio from the US was the first signing by the new Universal Music Classics label, launched by Universal Music Group last year.