Violinist Julia Fischer and cellist Daniel Müller-Schott discuss the demands and rewards of their duo partnership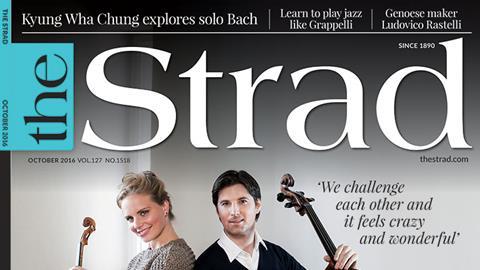 The Strad's October 2016 issue is on sale now, in which violinist Julia Fischer and cellist Daniel Müller-Schott talk to Pauline Harding about their new duo recording featuring works they have performed together for over ten years.
Elsewhere in the issue, Kronos Quartet violinist David Harrington talks to Andrew Mellor about the ensemble's creative relationship with Danish composer Pelle Gudmundsen-Holmgreen, who died in June; five string players in their twenties describe their experiences cultivating a professional performing career in their respective parts of the world; fifty years after she began playing Bach's Sonatas and Partitas, Kyung Wha Chung discusses her long-awaited recording of the works; and John Dilworth examines a selection of treasures inside The Strad's 2017 calendar, featuring instruments from music colleges around the world.
In our regular sections: Masterclass features Paul Silverthorne, who marks up the sheet music for Brahms's Viola Sonata op.120 no.2; In Focus gives a close-up view of an 1870 violin by Ludovico Rastelli; Sharon Que shares her method for maintaining a good gluing surface in Trade Secrets; Bristol-based luthier Steffen Nowak invites us into his workshop in My Space; violinist Max Frosch speaks about jazz rhythm in Technique; Italian violinist Francesca Dego takes us through her Practice Diary; three international rosin makers give advice on what to consider when choosing a brand of rosin in Ask the Experts; and Lisa Batiashvili talks about her relationship with the Sibelius Violin Concerto in Sentimental Work.
We also bring you news of the latest competitions, products and auctions, and comprehensive reviews of concerts, CDs and books.
Both the digital magazine and print edition are on sale now.