Examining the 1734 'Willemotte' violin - a masterpiece from Stradivari's later period, now owned by Leonidas Kavakos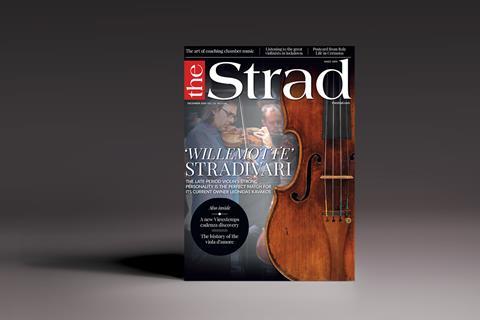 'WILLEMOTTE' STRADIVARI VIOLIN: 1734 Sam Zygmuntowicz examines a masterpiece from Stradivari's late period, comparing it with other instruments such as the 'Huberman' and 'Titian'
VIEUXTEMPS CADENZAS: A hitherto unknown manuscript cadenza to Beethoven's Violin Concerto has recently been unearthed in Vienna. Martin Wulfhorst evaluates the discovery
COACHING CHAMBER MUSIC: Graham Oppenheimer details some of the teaching strategies that have proved successful for players aged 8 to 18 at Chetham's School of Music in Manchester
SESSION REPORT: Charlotte Gardner attends the recording of C.P.E. Bach's string symphonies by Gli Incogniti, and speaks to the ensemble's founder Amandine Beyer
THE VIOLA D'AMORE: The 'viola of love' is undergoing a resurgence in popularity within the period-performance movement. Rachael Durkin traces its enigmatic history
EVOLVING INTERPRETATIONS: Nathaniel Vallois examines the recordings of some of the 20th century's greatest players to find out how their style and technique developed as they matured
In our regular sections:
In the issue's Masterclass Alban Gerhardt discusses Saint-Saëns's Cello Concerto no.1 in A minor in the first of two articles; in Technique violinist William Herzog shares strategies for mental practice; Nobuko Imai remembers the moment she fell in love with the viola in Life Lessons; plus in Sentimental Work violinist Ray Chen selects Bach's Preludio and Gavotte en Rondeau.
We inspect a 1939 violin by Italian luthier Igino Sderci in In Focus; in Trade Secrets Tadeusz Słodyczka shares his method of preparing an instrument for varnishing; My Space looks behind the scenes in the workshop of Trevor Davis; and in Making Matters Torbjörn Zethelius examines how Stradivari may have designed his f-holes.
We also bring you news of the latest products and auctions, plus our regular analysis and opinion columns, and comprehensive reviews of concerts, CDs and books. Simply go to the current issue to explore the full content listing.
Plus, in your digital edition:
View more images from the musicians' protest in Parliament Square, London, where the assembled players performed Mars from Holst's The Planets
More from the CremonaFiere 'special edition', including pictures from the concerts and instrument testing sessions
In Focus: extra views and close-ups of this month's instrument, a 1939 violin by Igino Sderci
My Space: we explore the unusual hi-tech workshop of US double bass luthier Trevor Davis
And, as ever, clips from the three 'The Strad Recommends' recordings
The digital magazine and print edition are on sale now, or subscribe to access the entire magazine online here.