Matthew McDonald, the Berlin Philharmonic's first principal bass, discusses the culture of creativity in the great German orchestra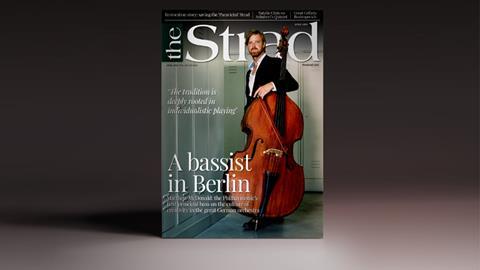 The Strad April 2017 issue is on sale now, in which Berlin Philharmonic first principal bass Matthew McDonald speaks to Chloe Cutts about finding a distinctive voice through orchestral playing.
Elsewhere in the issue, Alessandra Barabaschi tracks the restoration of the 'Paravicini' Stradivari violin, an instrument which languished in obscurity for decades; Richard Ward explores the history of German violin making centre Bubenreuth, from its beginnings as a haven for refugee luthiers after World War II; Philip Clark takes a fresh look at Schoenberg's quartets; and Mstislav Rostropovich biographer and former student Elizabeth Wilson assesses the Russian master's skills and powers of interpretation for the Great Cellists series.
In our regular sections: Masterclass features Rachel Barton Pine, who marks up the sheet music for the first movement of Mendelssohn's Violin Concerto; In Focus gives a close-up view of a c.1690 violin by Willem van der Sijde; Matt Wehling shares his method for building an ebony stop into a bow frog in Trade Secrets; Amsterdam-based luthier Gudrun Kremeier invites us into his workshop in My Space; violinist Boris Kuschnir gives tips on improving movement in the bow hand and wrist in Technique; US maker and researcher Gregg Alf shares memories and experiences in Life Lessons; a reader asks about the usefulness of obtaining a dendrochronology report when buying a violin in Ask the Experts; and cellist Natalie Clein talks about her relationship with the Schubert Quintet in Sentimental Work.
We also bring you news of the latest competitions, products and auctions, and comprehensive reviews of concerts, CDs and books.
The digital magazine and print edition are both on sale now.