Before you start combing through the string courses listed in our guide, take a look at these suggestions to help find the course that's right for you
VIOLIN
High school students are invited to the Interlochen Center for Arts in Michigan for a week of intensive violin and music studies. The camp includes masterclasses, private lessons, recitals, musician wellness classes, Alexander Technique classes and an end-of-week performance. The camp's aim is to bring high-level young violinists to that next level of playing.
At the Leonidas Kavakos International masterclass in Athens, the acclaimed Greek soloist invites violinists from around the world for a three-day masterclass course. It is open to both professional and advanced players. Kavakos leads solo and chamber music masterclasses, and one lucky student is ultimately given the opportunity to study with him for a full year.
At the summer academy of Bad Leonfelden, in the Upper Austria region, individual lessons are given to advanced string players from across the world. Violinist Sergey Malov will conduct the 2023 violin masterclasses. Players can choose to be either active or semi-active participants during the week, and workshops on breathing and voice are offered.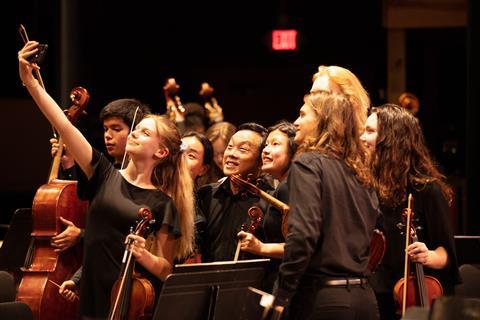 VIOLA
The international viola camp in the historic Turkish city of Iznik offers an in-depth look at viola playing. Students come from across the world to work with world-class viola tutors. Violists Tatjana Masurenko and Ali Baseǧmezler will be in residence in 2023. The course also runs alongside a violin making workshop led by Leipzig luthier Jürgen Manthey.
In collaboration with pianist Julian Rolton, violist Martin Outram leads a day of all things viola at Benslow Music. From viola ensemble music to public masterclasses with pre-prepared works, the day has an informal atmosphere. From 10am to 5pm advanced participants both play and watch performances and are provided with lunch and coffee breaks.
CELLO
In the Expansion summer course in Vikingstad, Sweden, cellist Mats Lidström guides advanced students through the fundamentals of cello playing. Founded by the cellist, the week-long course is structured less like a formal masterclass but is mainly focused on expression and musicality.
The three-week International cello institute programme in Minnesota takes a holistic approach to cello playing. Renowned cellists guide advanced students in technique sessions, private lessons, masterclasses, chamber music, as well as specialised workshops about score study, practising and time management. Guest speakers and artists share their knowledge on several topics and community projects are organised.
Organised by the Franz Liszt University of Music in Weimar, Germany, the Weimar Master Classes course dedicates a full week to cello players. In 2023 cellist Wen-Sinn Yang will guide a small group of young, advanced cello players in masterclasses throughout the week. The overall course also offers chamber music tutoring, lectures and public concerts.
DOUBLE BASS
In the heart of the Rhine Valley, the Namedy castle plays host to a week-long double bass masterclass organised by the Rhodius Academy. A mix of acclaimed bassists provide students with single lessons and run open masterclasses. The camp includes teacher, student and jazz concerts, as well as a jazz workshop. Scholarships are available for participants.
Bass players of all levels are welcomed in the historic town of Mittenwald for the international double bass masterclass. Tutors offer solo lessons, technical training and orchestral training. Participants are also given an insight into the world of double bass making. Concerts take place throughout the course and basses can be borrowed for free.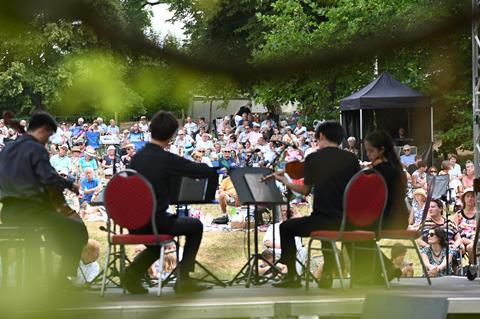 CHAMBER
For three weeks at the Keshet Eilon Music Center, over 50 young string players from around the world come together for chamber music masterclasses and concerts. Various musical workshops and individual lessons are also offered. The course also uniquely offers archery lessons, which focus on the overlapping skills between the sport and violin playing such as posture, coordination and concentration.
Named after legendary jazz musicians Stéphane Grappelli and Django Reinhardt, the unique Grappelli-Django course in Den Bosch, the Netherlands, concentrates on jazz and gypsy jazz string playing, improvisation and jamming. From Thursday to Sunday participants are offered daily instrument workshops, one-to-one lessons, jamming sessions, concerts and non-instrumental workshops. As well as bowed strings, the course includes guitars and wind instruments.
Musicianship is the focus at this week-long course for string players from 10 to 18 years old. Chamber music rehearsals look at both technical and ensemble skills. Students work in two chamber groups, take part in the orchestra and choir, and attend workshops on subjects such as drama and improvisation. Daily tutor concerts are organised, and the course culminates in a final day of concerts.
ORCHESTRA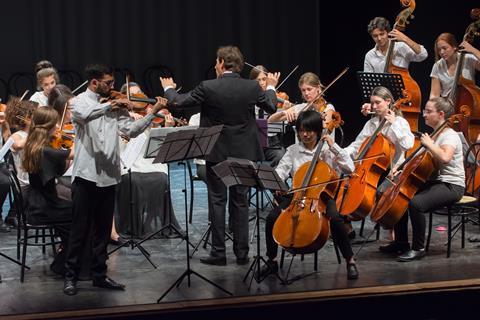 For two weeks in summer, the Dutch town of Ede hosts the RCO Young summer school. Attendees from across Europe, aged 14 to 17, are tutored by members of the Royal Concertgebouw Orchestra in orchestral rehearsals, sectionals, chamber music and masterclasses. Classes on personal growth and ambassadorship are also offered. The camp culminates in a concert in the renowned Concertgebouw Hall.
The Musicando Academy organises summer workshops in both Switzerland and Italy. Aimed at amateur players, the short sessions immerse the attendees in the world of orchestral playing for 4 to 7 days. Guided by professional musicians, students take part in tutti and sectional rehearsals and perform in concerts at the end of the workshop.
TEACHING
Participants are followed by individual mentors from the ESTA mentor panel during this postgraduate certificate course, which looks at teaching strategies and techniques as well as larger topics in music education. Sessions are both face to face and online, and result in a level 7 qualification. Individual mentors lead study sessions and assess the participant's submitted work.
CelloBello's online teaching training course focuses on cello teaching at all levels. Teachers with varying levels of experiences are invited to attend classes on teaching methodologies, the business side of teaching, as well as how to create a holistic approach to teaching cello. Parents of young cellists are also invited to learn about the cello-learning process.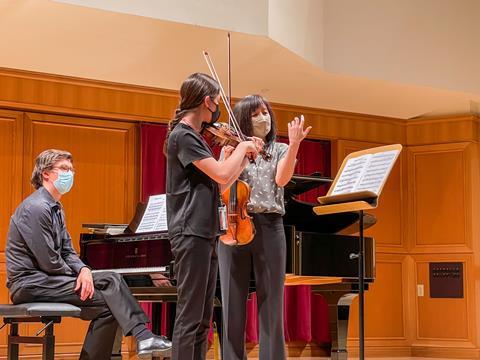 MAKING
Over three weeks in the summer, the Dutch School of Violin Making offers three week-long courses. The sessions are open to makers of all levels. In week one, participants work on their own projects and receive feedback from tutors. The last two weeks focus on voicing and light respectively.
Organised by the Chicago School of Violin Making, this week-long workshop focuses on varnish application and technical knowledge of varnishing. Participants, who bring along several instruments, will be guided through different methods, while also observing the workshop's directors' varnishing work. Different approaches to the skill will be explored throughout the week.
Violin making courses are organised in the spring, autumn and winter at Halsway Manor. Located in the UK's National Centre for Folk Arts' residence in Somerset, the workshops are open to violin makers of all levels. Rebec making is also offered. Classes are small, with about one tutor per five participants. The course concentrates on giving continuous bench time to students, who are guided by expert makers.