Premiere recordings of a forgotten German Romantic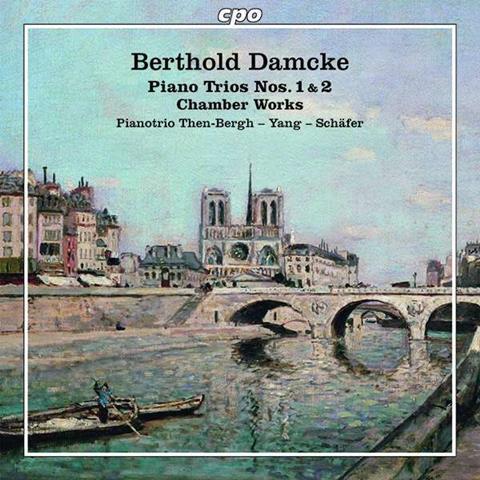 The Strad Issue: January 2023
Description: Premiere recordings of a forgotten German Romantic
Musicians: Ilona Then-Berg (violin) Wen-Sinn Yang (cello) Michael Schäfer (piano)
Works: Damcke: Piano Trios: no.1 in E major op.42, no.2 in G minor op.48; Cello Sonata in D major op.43; La Demande: Allegro caractéristique op.16; La Veillée: Pastorale op.38; Les Saisons: Deux morceaux de salon op.39; Les Saisons: Quatre pièces caractéristiques op.30
Catalogue number: CPO 555 521-2 (2CDs)
Berthold Damcke, born in Hanover in 1812, was successful in his lifetime and feted especially in Russia before settling in Paris, where he was a great friend of Berlioz. The works on these CDs, all first recordings, suggest his music is worthy of exploration.
The first piece here is his Second Piano Trio, which has tints of Mendelssohn and Beethoven. It opens with a severe unison, which leads to a dancing melody with easy charm and flexibility. There is great give-and-take between the players, with pianist Michael Schäfer having the lion's share as the strings play with grace and energy. In the light and scampering scherzo the playing is imbued with mercurial vitality, contrasting with a more expansive trio. The Andante starts with a melody of Classical grace, though later the piano has a passage of proto boogie-woogie. The finale is variously grand, uplifting and contrapuntal, always pressing urgently ahead and constantly inventive, with the players meeting its challenges with relish.
At the other end of this two-CD set is the First Piano Trio, with another unison beginning followed by a bucolic, naive melody that Damcke uses to switch between emotional planes. The minuetto has a debonair opening, played with gentle and mellifluous sensitivity by cellist Wen-Sinn Yang. After an amiable Larghetto the finale is positively Beethovenian.
Yang is urbane and expansive in the first movement of the Cello Sonata, which is congenial and sometimes unsettled, with outbursts of fiery rhetoric. In his hands the broad lyrical landscape of the Andante flows smoothly, and the rhythmically impetuous finale works up a good head of steam. All is captured in a recorded sound that is fine and full.
TIM HOMFRAY