The Henschel Quartet from Germany celebrated its 25th year in 2016. Here the group gives tips on achieving longevity in a chamber career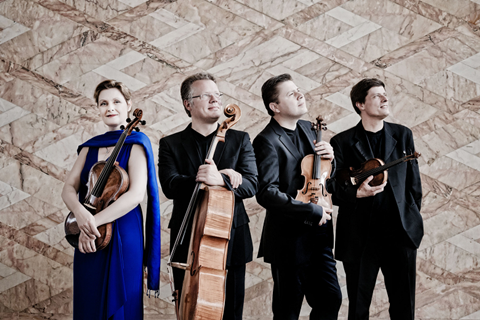 To achieve longevity, small chamber music ensembles need to concentrate not only on an ensemble body of sound but also on developing an ensemble spirit. In addition to musical and technical mastery, and quite apart from paying attention to what the external charisma requires - unique sales point (USP), creative programmes, use of strong marketing tools, networking, partners and agents – there is that very important internal charisma which the ensemble members need to nurture and protect.
An ensemble with great inner strength will go on, even when times are hard. However, when the internal cosmos is disturbed, even great success as an ensemble will not guarantee longevity.
1. The key issue is joy. We all enjoy performing great music, of course. Just as importantly, however, every ensemble member needs to also enjoy each other's company and value each other's skills. Respecting each other's personalities, and welcoming difference as an engine of development, creates the best atmosphere. If every member maintains their focus on the joy of making music together as an important priority and pleasure in their life, setbacks will hurt less.
2. It is helpful to agree on common aims, and to select realistic short-term ones rather than one huge abstract goal. Young groups have to do this anyway, but once an ensemble has been working together for some years this habit can get forgotten, particularly if the focus of effort is being reduced due the demands of a busy schedule. Continuing to establish realistic common aims beyond the everyday routine will drive you forward and guarantee regular positive experiences as a group.
3. Make sure that the ensemble is of the same priority to all its members. If all the members agree that the ensemble is their first priority and that teaching and/or orchestral work is their second priority, it is likely to work out. The same is true the other way round; what matters is that the priority given to the ensemble is the same for all the members.
4. Each member has his/her individual strengths. An ensemble works best when each player's involvement is paired with their own particular personal skills. One member might be interested in arranging travel, another member might like to do the website and handle PR issues etc. From a very practical point of view it makes life easier, both for the ensemble and also their agent partners, when specific responsibilities stay with the same person.
Some ensembles have a group manager among their members. This works, as long as this extra work is being valued and perhaps even paid for in some way. Even then, all members need to carry responsibility. 'Inactive' members tend to leave ensembles more easily. That's said, it is also destructive to compare the amount of work each member puts in; it is unlikely to be equal and it is important to value the effort made by each individual.
5. Reflection is important. Regularly adjust your view on the ensemble's possibilities. The internal situation might change, e.g. when members start families. The external situation definitely changes much more than most young players expect. A long-term career can only be achieved if an artist adjusts to the three periods: young artist, established artist, mature artist.
Young artists are being booked by promoters to introduce new, lovely, prize-winning (and less expensive) musicians; mature artists are being booked by promoters before they might stop performing! It can get very hard to find bookings in that middle period, when established artists have already performed a great number of times and are not likely to stop playing soon. Creativity in programming is therefore an essential ingredient of longevity.
Respecting each other's personalities, and welcoming difference as an engine of development, creates the best atmosphere
6. Never let a problem become a conflict. The process of solving problems together will lead to increased drive from the quartet, but conflicts block development. A problem only becomes a conflict when negative emotions get involved. Be aware of negative emotions and talk about it in a constructive and open way. It is easier to solve a conflict immediately it arises. Conflicts which have grown over a longer period take on an emotional dimension, which will lead to any little problem becoming a major issue. Should this happen, separate the facts from the emotions and always calm down the emotional side first.
7. Constructive dialogue in a small chamber music ensemble is crucial. A performance will only be convincing when the performers are all personally and emotionally involved. This is why it is so important to always find the best way to express wishes, ideas and criticism. Asking questions opens a dialogue, whilst statements or judgements might close it. Use a positive way of putting things.
Not every question has to be answered immediately. Try out many different approaches to an interpretation, and definitely all the ways that have been suggested by the ensemble's members; you can always leave it open and tackle it again later.
Less is more: when all members mention all their ideas in a rehearsal, a lot of good input might get forgotten. It is much better to limit each player's suggestions, e.g. to two or three important comments after a play-through. It will still be plenty to remember. Every player should take part in a balanced way. Either all players talk about their suggestions in a rehearsal, or rehearsals can be conducted by one player only, in which case all members will have to do this in turn.
8. Seek inspiration. An ensemble will, of course, always get fresh ideas when guest performers join them, but it is also great to listen to concerts together, to visit other events as a group spending quality time together, or to simply exchange views on anything else which is of interest.
9. Found your own follower's association, 'Friends of the Ensemble'. Not only will this provide a lot of practical and mental support, but it also has a binding character. The ensemble members will receive a lot of stimulation via their obligations to their wider associates. You can also launch your own concert series or little festival. No matter how small the festival will be, or how few concerts your series might produce, those concerts will be the reliable dates in your schedule - a yearly aim and the chance to invite friends and colleagues.
10. Gratitude facilitates a positive approach to a long term career. Think of the great picture, which Daniel Barenboim uses: Everything, which he learns, stays in his inner library and he is grateful for all he was able to collect. Such no period of life will ever have to be considered 'lost'.
This blog was first published on 1 October 2015