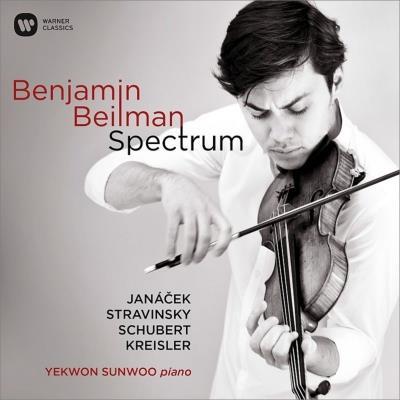 The Strad Issue: May 2016
Description: Beilman gets under the music's skin in a dazzling recital
Musicians: Benjamin Beilman (violin) Yekwon Sunwoo (piano)
Composer: Janácek; Kreisler; Schubert; Stravinsky
Working alongside his regular accompanist Yekwon Sunwoo, Benjamin Beilman immediately draws us into the elusive sound world of Schubert's D574 Sonata via his acute sensitivity to phrasing and dynamics. Whereas the general tendency in the opening movement is to adopt a steady-as-she-goes, smiling cantabile, Beilman imbues every idea with a scorching expressive imperativeness. Some may find the results a shade interventionist in principle – even when Schubert is at his most smiling, Beilman continues to probe beneath the music's apparently easy-going surfaces – yet in practice his refusal to take the interpretative way out and fall back on conventional rhetoric proves revelatory. Those seeking cosy Viennese Gemütlichkeit had best stand clear as Beilman takes us on a compelling emotional journey that leaves no emotional stone unturned, enhanced by tactile engineering of radiant allure.
Beilman also brings the Janácek Sonata's nerve-jangling changeability scorchingly to life, soaring aloft with ear-ringingly pure intonation in the Ballada, then lacerating our sensitivities with hectoring explosions of sound. Like his most recent mentor Christian Tetzlaff, Beilman creates the strange impression of thinking out loud as
he plays, relishing the quick-fire interchanges of Stravinsky's Divertimento with a gripping spontaneity and freewheeling imagination. His edge-of-the-seat, Kremer-on-fire take on Kreisler's Viennese Rhapsodic Fantasietta sets the seal on a dazzling recital.
Julian Haylock