Newly reissued recordings from a musical legend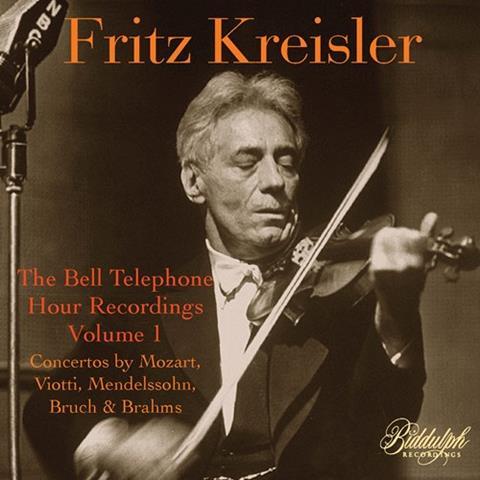 The Strad Issue: January 2023
Description: Newly reissued recordings from a musical legend
Musicians: Fritz Kreisler (violin) Bell Telephone Hour Orchestra/ Donald Voorhees
Works: Volume 1: Brahms: Violin Concerto in D major op.77 – Adagio. Bruch: Violin Concerto in G minor op.15 – Vorspiel & Adagio. Mendelssohn: Violin Concerto in E minor op.64 – Allegro molto appassionato. Mozart: Violin Concertos: in G major K216 – Allegro, in D major K218 – Allegro. Viotti: Violin Concerto no.22 in A minor G97
Volume 2: Chausson: Poème op.25. Corelli: Violin Sonata in D minor op.5 no.12 'La folia'. Rimsky-Korsakov: Fantasy on Russian Themes op.33; and works by Albéniz, Dvořák, Falla, Massenet, Nevin, Rachmaninoff, Ravel, Rimsky-Korsakov and Tchaikovsky
Catalogue number: BIDDULPH 85019-2 & 85020-2
For decades Fritz Kreisler, like his friend Sergei Rachmaninoff, set his face against playing for the radio. Only after Rachmaninoff's death did his wife Harriet persuade him to accept an offer of $5,000 per appearance from the Bell Telephone Hour.
On 17 July 1944, aged 69, he performed the first movement of the Mendelssohn Violin Concerto and two pieces with NBC SO musicians under the competent Donald Voorhees. The Mendelssohn and Albéniz's Tango are here; Kreisler's own Caprice viennois was issued as a V-disc.
You will not hear the Kreisler of the inter-war years on these discs. In 1941 he had a terrible accident and was in a coma for months. Much of his facility can still be discerned – his golden tone, wonderful phrasing and fine double-stops. The acetate recordings are mostly good for the era but occasionally noisy.
The main treasure is the complete Viotti A minor Concerto, from two 1945 concerts. As soon as Kreisler enters, his lovely tone is paramount; some carefulness in the Moderato and Adagio from soloist and orchestra is redeemed by his interesting cadenzas. The finale is delightful.
Also not previously recorded by Kreisler is the Mozart K216 Allegro, remarkable when you consider he had just turned 75 when it was recorded. The orchestra sounds a bit ropey, the tempo is quite fast and forthright, but Kreisler introduces a note of graciousness and again his cadenza is absorbing.
The highlight of Vol.2 is Rimsky-Korsakov's Fantasy, a 1945 reading in which Kreisler plays his own edition with freshness and brio. Corelli's 'La folia' has nice moments but the orchestra gets in the way, fogging the aural picture. In Chausson's Poème, the violinist is clearly putting his heart into it.
An arrangement from Rachmaninoff's Second Piano Concerto is vile and I never want to hear this rendition of Tchaikovsky's Andante cantabile again; but mostly the short pieces and remakes of concerto movements are up to snuff.
The notes make errors, the most egregious being the assertion: 'Rachmaninoff and Kreisler… performed together frequently in concert recitals' (they did once appear on the same bill, but not together).
TULLY POTTER