Poland, France, Spain and Italy were also represented in the final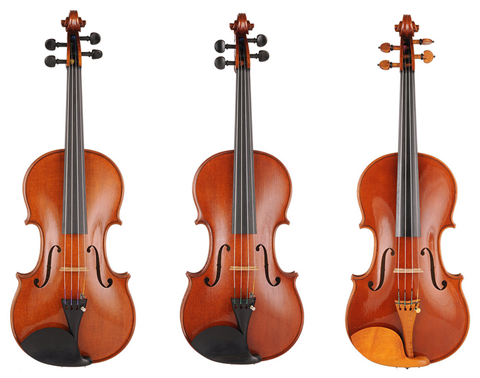 Ji Hwan Park, a luthier from South Korea, won the Grand Prix and €20,000 at this year's International Henryk Wieniawski Violin Making Competition. Held every five years in PoznaŠ", Poland, the event is the oldest lutherie competition in the world. Two instruments tied for second place: another violin by Ji Hwan Park, and one by Krzysztof Krupa from Poland. Both makers received €3,000. Third place and €2,000 went to French luthier Philippe Mahu.
Krupa, who also won a bronze medal at the China International Violin and Bow Making Competition in the same week, had one other violin in the final round, while his brother Marcin had two. The other finalists were: Gonzalo Bayolo (Spain); Piotr Pielaszek (Poland); Debora Scianamé (Italy); and Sungdeok Seo (South Korea). A total of 120 instruments from 23 countries were entered for this year's competition.
This is the second consecutive edition of the competition in which a South Korean luthier received the top prize; in 2011 Min Sung Kim received the top award, as well as the fourth place. Several of the finalists also received recognition at last year's Cremona Triennale: Sungdeok Seo and Krzysztof Krupa both received prizes, while Ji Hwan Park, Philippe Mahu, Gonzalo Bayolo and Marcin Krupa all received honorable mentions.
This year's jury comprised chairman Raymond Schryer (Canada), Ulrike Dederer (Switzerland/Germany), Andrea Frandsen (Denmark/France); Dante Fulvio Lazzari (Italy); Wojciech Lukasz (Poland), Tadeusz Slodyczka (Poland) and Jan Š pidlen (Czech Republic). Violinists playing the instruments in the final were Mariusz Derewecki (Poland), Eszter Perényi (Hungary) and Dima Tkachenko (Ukraine).
'As a jury member, I was pleased with the level of violin making quality and it was obvious that the competition was going to have good representation for stage 3 of the finals,' Schryer told The Strad. 'With eleven violins in the final round, it was exciting to be part of the acoustic evaluation – trying to select your favourite-sounding one in both the piano-accompanied performance, and finally with the orchestral performance.'
The winning instruments will be on display in the Spanish Hall of PoznaŠ"'s National Museum until 22 May.
Pictured (left–right): the Grand Prix-winning violin by Ji Hwan Park; another violin by Park that won the joint second prize; Krzysztof Krupa's joint second-prize-winning violin.
Subscribe to The Strad or download our digital edition as part of a 30-day free trial. To purchase single issues click here.