The cellist enjoyed an extensive career in both the US and Korea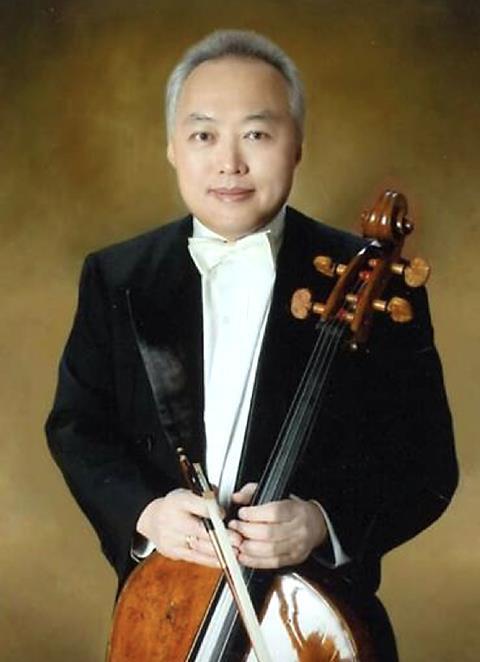 US-Korean cellist Dong-Oo (Edwin) Lee has died. Lee enjoyed a career both as a performer and teacher in the US and South Korea, most recently as professor of cello at the University of Ulsan, College of Music.
Born in the US in 1956, Lee's music studies began at the University of Missouri-Kansas City Conservatory of Music Preparatory School and the University of New Mexico, College of Fine Arts, graduating from the New England Conservatory of Music with a Bachelor of Music in 1980.
Lee was the recipient of many awards, including Aspen Music Festival Jorge Mester Fellowship in 1974, the Tanglewood Fellowship from the Boston Symphony Orchestra in 1976 and 1977, the International Round Top Festival in 1977, the 1979 Piatigorsky Fellowship Prize from the Volpe Foundation, and in 1981, the Pablo Casals Memorial Award from the Harry S. Truman Presidential Library Society.
Lee also studied in Ukraine, at the Kharkiv National Conservatory of Music and the Kharkiv Philharmonic Institute of Music of International Studies where he received his Master of Music in 1989, and an honorary doctorate in 1997.
As an orchestral cellist, Lee held assistant principal roles with the New Mexico Symphony Orchestra and the Orchestra of Santa Fe in the 1970s. From 1981 until 1983, he was cellist of the Laurentian Quartet, which was the ensemble in residence at Sarah Lawrence College.
Following a move to South Korea, from 1983 until 1999 Lee served as principal cellist of the Korean Broadcasting Service Symphony Orchestra. In 1986 he became principal cellist of the Seoul Baroque Orchestra, which was founded in 1965 by Lee's father-in-law, Bong-Cho Jeon, a cello professor and dean of the College of Music at Seoul National University.
Lee was appointed professor of cello and chair of strings and chamber music at the University of Ulsan, College of Music in January 2000. Lee described his self-consciousness being unaware of Korean culture and the language, having been born in America, telling The Strad in 2004, 'being forced to communicate in other ways taught me to be extremely observant, demonstrative, animated and patient. I did a lot of singing for and with my students, and I have continued to do so even now that I speak the language.
'I discovered that having my students sing in a lesson freed them from being trapped inside the instrument and opened up other ways of expressing themselves. Some students are surprised by this technique, feeling that singing has nothing to do with playing the cello… I believe very strongly, though, that good teachers should be innovative in teaching essential musical qualities to their students.'
Lee aimed to uphold the teaching principles of his cellist father in law, saying 'Korea draws in talent from all over the world in order to nurture new generations of musicians. Its school of cello playing, then, is based on the teachings of a melting pot of cello professors who received their education in all parts of the world.'
Lee performed extensively as a duo, with his pianist wife Mi-Young Jeon, since 1983 throughout the US and Korea, making their Kronberg Academy debut in 1993. Their daughter Kyung-Mi (Anna) Lee is also a cellist.
Lee was an active member of the American Cello Council since 1988, also receiving an invitation from Rostropovich to represent the Republic of Korea to the first World Cello Congress in Washington D.C., in 1990, the fourth American Cello Congress and the 2003 seventh American Cello Congress in Tempe/Phoenix Arizona. In 2000, he was a founding member of the Korean Cello Association, which includes many of Korea's leading concert musicians and professors.
In 2003 he was the first cello professor from South Korea to be invited to the Fourth April Spring Arts Festival in Pyongyang, North Korea, performing with the Pyongyang National Conservatory of Music Orchestra. During this visit he observed and conducted informal cello classes with the students at the Conservatory. He repeated his visit in 2004 and 2006 returning to Pyongyang as a guest artist/soloist with North Korea's Choson Philharmonic Orchestra. In April 2010, Lee was a guest artist with the Isang Yun Modern Arts Orchestra of Pyonyang performing the complete cello works of the late Korean composer Isang Yun.