Japanese violinist Mayu Kishima won the contest's $100,000 first prize last week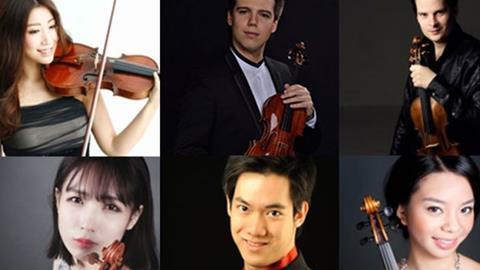 The inaugural Shanghai Isaac Stern International Violin Competition has released the scores of its six finalists (pictured), following the announcement of the results last week.
The scores of all 13 judges are revealed, in addition to their preferred ranking of the candidates in order from one to six. In the interests of total transparency, the competition has released all candidates' scores as they have been eliminated.
Click on the link below to read the finalist results in detail:
On Friday Japanese violinist Mayu Kishima was named the winner of the Shanghai contest, taking home the top prize of $100,000. Second prize, worth $50,000, went to Sergei Dogadin from Russia, while Sirena Huang from the US won third prize, worth $25,000. Fourth, fifth and sixth prizes, each worth $5,000, went to Stefan Tarara from Germany, Richard Lin from the United States and Ming Liu from China, respectively.
This year's jury included Zakhar Bron, Boris Kuschnir and Maxim Vengerov, in addition to Chinese violin professors Zhenshan Wang and Lina Yu, and co-chairs – conductor and son of Isaac Stern, David Stern, and Professor Vera Tsu Weiling.
For full details visit the SISIVC website.
Read: Shanghai Isaac Stern Violin Competition reveals scores of eliminated semi-finalists
Read: Shanghai Isaac Stern Violin Competition reveals scores of eliminated quarter-finalists