The violinists are competing for a $26,000 grand prize in Sendai, Japan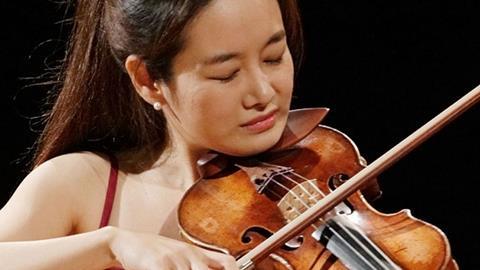 The Sendai International Violin Competition in Japan has named the six performers, whittled down from 40 shortlisted candidates, who will compete in the finals on 2, 3 and 4 June for a top prize of JPY 3,000,000 ($26,000), concert performances and a CD recording.
Among the performers are a number of familiar names, including ; Anna Savkina, who won fourth prize at the 2013 Sendai International Violin Competition; 2014 International Johann Sebastian Bach Competition violin category winner Seiji Okamoto; 2014 International Violin Competition of Indianapolis finalist Yoo Jin Jang (pictured); and 2014 China International Violin Competition second place winner Naoka Aoki.
The competitors are:
Naoka Aoki, 23, Japan
Yoo Jin Jang, 25, Korea
Meruert Karmenova, 22, Kazakhstan
Stephen Kim, 20, USA
Seiji Okamoto, 21, Japan
Anna Savkina, 21, Russia
Each of the six violinists will perform two concertos in the final, including the Mendelssohn Violin Concerto.
This year's jury, chaired by Yuzuko Horigome, includes vice chairpersons Masafumi Hori and Rodney Friend, in addition to Boris Belkin, Mauricio Fuks, Mengla Huang, Tomoko Kato, Younguck Kim, Gidon Kremer, Cho-Liang Lin, Régis Pasquier and Kyoko Takezawa.
Held every three years in piano and violin disciplines the competition is open to candidates of all nationalities up to the age of 28. Winner of the 2013 Sendai Violin Competition was Richard Lin.
For full details visit the Sendai International Music Competition website.