The Canadian violinist Shannon Lee has been awarded 2nd prize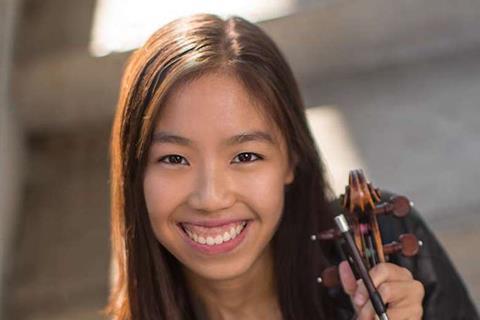 Shannon Lee has been awarded 2nd prize at the 2019 Sendai International Violin Competition, held in Sendai, Japan. The Canadian violinist will receive JPY 3,000,000 (USD $27,000), a CD recording, plus a number of important orchestral and festival performance opportunities.
No first prize was awarded at this year's competition.
3rd and 4th prizes were awarded to 23-year-old Mayu Tomotaki from Japan and 22-year-old Chihiro Kitada from Japan. 5th prize was awarded to 18-year-old Elias David Moncado from Germany. Joint 6th prize was awarded to 20-year-old Rio Arai from Japan and 22-year-old Donghwi Ko from South Korea.
A graduate of Columbia University and the Curtis Institute of Music, Lee is currently on the master's degree programme at the Cleveland Institute of Music as a student of Jaime Laredo and Jan Mark Sloman.
She is a former prize winner at the Indianapolis and Naumburg International Violin Competitions and was last month awarded 4th prize at the 2019 Queen Elisabeth International Violin Competition in Brussels.
The 2019 jury comprised: Yuzuko Horigome (Chairman), Gidon Kremer, Masafumi Hori, Boris Belkin, Olivier Charlier, Rodney Friend, Tomoko Kato, Younguck Kim, Cho-Liang Lin, Saeka Matsuyama, Joel Smirnoff and Isabelle Van Keulen.
Previous 1st prize winners include: Alena Baeva, Clara-Jumi Kang, Richard Lin, Yoo Jin Jang and Bomsori Kim.