The Japanese competition offers a $27,000 first prize plus a package of concerts and other benefits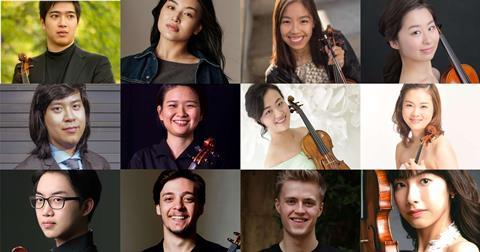 The seventh Sendai International Violin Competition started its live rounds on 15 June with 38 competitors. These have now been reduced to 12 for the semi-finals.
They are:
Rio Arai (Japan)
Kaori Furusawa (Japan)
Yuki Ishihara (Japan)
Honoka Kishimoto (Japan)
Chihiro Kitada (Japan)
Donghwi Ko (South Korea)
Shannon Lee (US/Canada)
Charlie Lovell-Jones (UK)
Elias David Moncado (Germany)
Andrea Obiso (Italy)
Kelly Talim (US)
Mayu Tomotaki (Japan)
They will perform across 21-23 June with the Sendai Philharmonic Orchestra conducted by Ken Takaseki, and six then proceed to the final round (27-29 June) with a winners' gala concert on 30 June.
They jury, chaired by Yuzuko Horigome, comprises Gidon Kremer, Masafumi Hori, Boris Belkin, Olivier Charlier, Rodney Friend, Tomoko Kato, Younguck Kim, Cho-Liang Lin, Saeka Matsuyama, Joel Smirnoff, and Isabelle Van Keulen.
The gold medal includes a cash prize of JPY 3,000,000 (c. $27,000), CD production and a package of concerts and recitals in Japan. Prominent past laureates include Alena Baeva, Clara-Jumi Kang, Richard Lin and Bomsori Kim.
More information at simc.jp/en