The 40 selected violinists will compete for a $26,000 grand prize in Sendai, Japan in May and June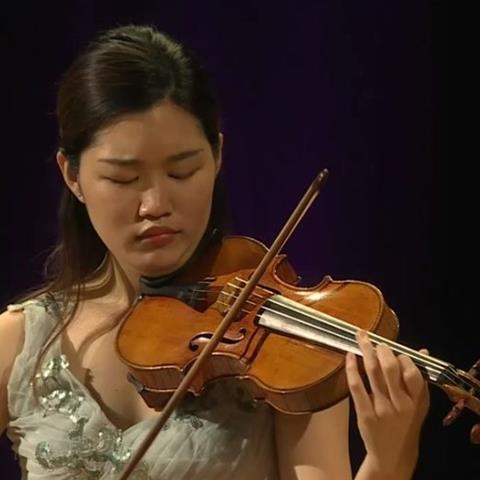 The 40 shortlisted candidates taking part in the 6th Sendai International Violin Competition in Japan have been announced. Hailing from 10 different countries, the violinists will compete from 21 May to 5 June for a top prize of JPY 3,000,000 ($26,000), concert performances and a CD recording.
Among the names are a number of violinists who have excelled in other competitions throughout the past few years, including 2015 International Jean Sibelius Violin Competition finalist Minami Yoshida; Anna Savkina, who won fourth prize at the 2013 Sendai International Violin Competition; 2014 International Johann Sebastian Bach Competition violin category winner Seiji Okamoto; 2014 International Violin Competition of Indianapolis finalist Yoo Jin Jang; and 2014 China International Violin Competition second place winner Naoka Aoki (pictured).
The competitors are:
Ribon Aida, 25, Japan
Misako Akama, 22, Japan
Nikita Akulov, 25, Russia
Naoka Aoki, 23, Japan
Mizuki Chiba, 20, Japan
Fuki Fujie, 25, Japan
Yuichiro Fukuda, 25, Japan
Yoko Ishikura, 19, Japan
Yoo Jin Jang, 25, Korea
Meruert Karmenova, 22, Kazakhstan
Karen Kido, 21, Japan
Damin Kim, 25, Korea
Stephen Kim, 20, USA
Honoka Kishimoto, 21, Japan
Daniil Kogan, 22, Canada/Russia
Ryota Kuratomi, 24, Japan
Yu Kurokawa, 26, Japan
Kevin Lin, 22, Taiwan/USA
Seina Matsuoka, 22, Japan
Daichi Nakamura, 25, Japan
Kaoru Oe, 22, Japan
Kyoko Ogawa, 23, Japan
Seiji Okamoto, 21, Japan
Yurina Otsuka, 26, Japan
Sungmi Park, 24, Korea
Yue Qian, 20, China
Anna Savkina, 21, Russia
Julie Svecena, 21, Czech Republic
Kelly Talim, 20, USA
Yabing Tan, 25, China
Gabriel Tchalik, 26, France
Mayu Tomotaki, 20, Japan
Natsumi Tsuboi, 22, Japan
Eimi Wakui, 23, Japan
Momo Wong, 21, Japan/USA
Haoming Xie, 26, China
Minami Yoshida , 17, Japan
Arata Yumi, 24, Japan
Yang Zhang, 25, China
This year's jury, chaired by Yuzuko Horigome, includes vice chairpersons Masafumi Hori and Rodney Friend, in addition to Boris Belkin, Mauricio Fuks, Mengla Huang, Tomoko Kato, Younguck Kim, Gidon Kremer, Cho-Liang Lin, Régis Pasquier and Kyoko Takezawa.
Held every three years in piano and violin disciplines the competition is open to candidates of all nationalities up to the age of 28. Winner of the 2013 Sendai Violin Competition was Richard Lin.
For full details visit the Sendai International Music Competition website.