Sheer tonal beauty and passion bring to life contrasting Russian works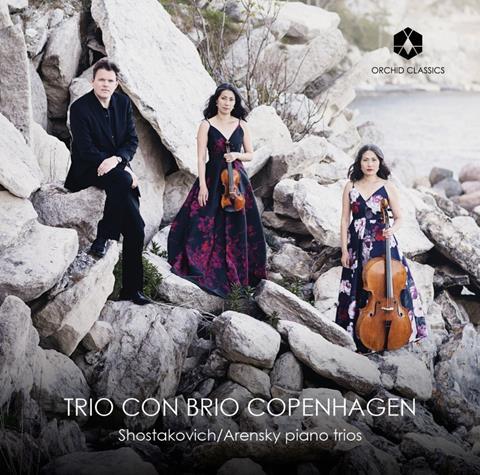 The Strad Issue: February 2022
Description: Sheer tonal beauty and passion bring to life contrasting Russian works
Musicians: Trio Con Brio Copenhagen
Works: Shostakovich: Piano Trios: no.1 in C minor op.8; no.2 in E minor op.67. Arensky: Piano Trio no.1 in D minor op.32
Catalogue number: ORCHID ORC 100181
A solitary personal gripe notwithstanding, this is a very impressive release, contrasting Arensky's full-blown Romanticism with Shostakovich's more troubled Soviet-era expression. From the start of Shostakovich's Piano Trio no.1 we are allured by the players' sheer tonal beauty, not only in the work's melancholy lyricism but even in its clanging dissonances, which never seem ugly. There's boundless joy and passion in Arensky's Piano Trio, and technique to burn from the players beneath the surface. The slow Elegia movement is breathtakingly tender, with the muted violin and cello creating a magical effect.
The violin and cello harmonics at the start of Shostakovich's Piano Trio no.2 are fragile but shimmering. The second movement may not be as snarling and unhinged as some performances, but this Allegro is definitely (as marked) 'con brio'. The Largo pours tonal balm over harrowing melody and the finale is suitably climactic. The recorded sound is ideal – airy in texture, nicely blended and rich in detail.
So what's the gripe? Well if, like me, you have an aversion to the 'historic present' beloved of some historians and broadcasters you'll wince at the (otherwise commendable) booklet notes ('In 1906, when Arensky dies and Shostakovich is born, the old world is beginning to crumble…') Everything else about this release is necessary.
EDWARD BHESANIA