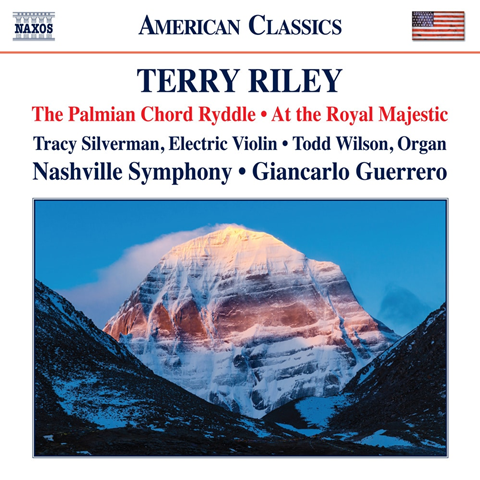 The Strad Issue: March 2018
Description: Electric violin pioneer travels beyond minimalism
Musicians: Tracy Silverman (electric violin)1 Todd Wilson (organ)2 Nashville Symphony/Giancarlo Guerrero
Works: RILEY The Palmian Chord Ryddle1; At the Royal Majestic2
Catalogue Number: NAXOS 8.559739
Despite his seminal In C of more than five decades ago, describing Terry Riley as a minimalist these days is way off the mark – as evidenced by his sprawling but joyfully warm-hearted electric violin concerto The Palmian Chord Ryddle, given a tender, thoughtful world-premiere recording by Tracy Silverman and the Nashville Symphony.
It's clearly a deeply personal work for Riley, its eight joined movements focusing on family, friends and influences he holds particularly dear, from Indian and Andalusian musics through to memories of his parents dancing and a bright celebration of his son Gyan's wedding. Silverman tackles the work's impetuous demands with a winning balance of precision and spontaneity: Riley's rhapsodic, portamento-heavy solo lines, achingly lyrical at times, sound sometimes like prog-rock guitar solos on Silverman's multi-octave, six-stringed instrument, but he delivers each with ringing clarity and sonic purity. He also brilliantly captures the concerto's sense of in-the-moment creation, of semi-improvised ideas that only slowly coalesce, in playing that's both committed and perceptive.
Silverman gets crisp, assertive support from the Nashville players, who are given plenty of individual chances to shine in Riley's translucent orchestration. The concerto's companion work, Riley's organ concerto At the Royal Majestic, is just as wildly unpredictable and entertaining, bringing together Bachian chorales, boogie-woogie and modernist dissonance in an expansive offering played with appropriate grandeur by Todd Wilson. Recorded sound is exemplary on both pieces: warm, close, detailed, and realistically balanced between soloists and orchestra.
DAVID KETTLE