Deft and mellow-toned readings of late Baroque duos by Bach junior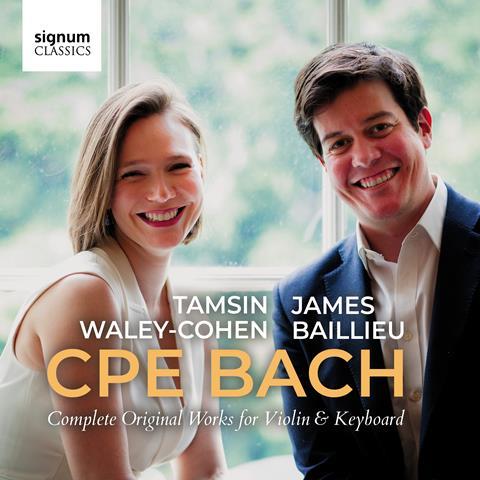 The Strad Issue: January 2020
Description: Deft and mellow-toned readings of late Baroque duos by Bach junior
Musicians: Tamsin Waley-Cohen (violin) James Baillieu (piano)
Works: CPE Bach: Complete Works for Violin and Keyboard: Sonatas in D major Wq71, in D minor Wq72, in C major Wq73, in D major Wq74, in F major Wq75, in B minor Wq76, in B flat major Wq77, in C minor Wq78, Arioso con variazioni in A major Wq79, Fantasia in F sharp minor Wq80
Catalogue Number: SIGNUM CLASSICS SIGCD573 (3 CDs)
This chronological survey of Emanuel Bach's violin/keyboard works extends from the Baroque sonatas of his youth (Wq71–3, 1731; revised 1746) to the more unpredictable 'sensitive' works of his maturity (Wq74, 1754 and Wq75–8, 1763). James Baillieu is the busier in the early sonatas and argues a strong case for the anachronistic Steinway piano as their optimum keyboard medium, such are his clean, athletic technique and his awareness of style, texture and balance. Tamsin Waley-Cohen, playing a 1721 Stradivari, takes more of a back seat, opting for light articulations, transparency and purity of tone and minimal vibrato. Nevertheless her forays into greater prominence include some admirable trading of melodic motifs with Baillieu, particularly in the Adagios of Wq71 and Allegros of Wq72.
The systematic development of thematic material in the later sonatas results in greater equality between the two instruments and Waley-Cohen comes out of her shell to participate more vigorously in the dialogue, especially in buoyant allegros such as the outer movements of Wq75 or the first movements of Wq74 and Wq77. Her rapport with Baillieu is riveting in the deeply expressive Adagio of Wq78, where Baillieu's extraordinary meanderings contrast with her intimately veiled and mellow violin line.
Apart from the somewhat express final Allegretto of Wq73 and Tempo di Menuetto of Wq74, tempos are finely judged and little expressive detail is left under-characterised. The set concludes with accounts of the keyboard-centric Arioso con variazioni Wq79 and Fantasia Wq80, intelligently and deftly conveyed. Captured in the Britten Studio, Snape, the recording is exemplary.
ROBIN STOWELL