Birdsong reinvented with panache by this American multi-tasker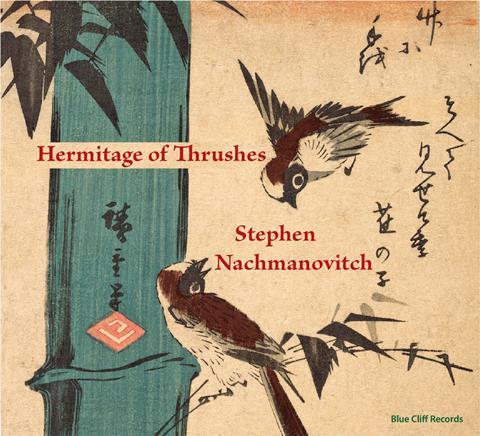 THE STRAD RECOMMENDS
The Strad Issue: August 2022
Description: Birdsong reinvented with panache by this American multi-tasker
Musicians: Stephen Nachmanovitch (violin, electric violin, viola d'amore, electronics)
Works: Hermitage of Thrushes
Catalogue number: Blue Cliff Records BCR 20A
US violinist–violist and composer Stephen Nachmanovitch has long been a passionate advocate of musical improvisation. So it should probably come as no surprise that there's a freewheeling, spontaneous personality to the ten tracks on this gloriously sunny, open-air CD. There's a certain improvisatory aptness, too, to the surprise that Nachmanovitch admits at finding himself the latest in a long line of composers drawing on birdsong for inspiration – in this case, recording chirrups and tweets from the Virginia woods near his home during lockdown, and transforming the recordings into fresh, vividly imagined pieces alongside his own violin (electric or acoustic) or viola.
And despite sometimes quite radical sonic transformations, there's a sense of freedom and woodland airiness to everything here, matched by the suppleness of Nachmanovitch's own string playing. The opening 'Quintet for Viola and Thrush' is one of the CD's most ambitious tracks, with Nachmanovitch weaving rich, raga-like viola lines in and among four multi-tracked wood thrush songs. Its collision of earthy, organic sounds and more clinical and austere electronic manipulations gives the music its paradoxical quality of being captivating and somehow unsettling at the same time, a sense that pervades the disc. The Messiaen-inspired 'Tapage' is perhaps less convincing in its bluesy, jazzy, sax-like melody, while 'Sprig' is the only track in which Nachmanovitch actively aims to imitate his avian musical colleagues, with compelling results. He ends the disc with the calm contemplation of the Feldman-inspired 'Interleaf', with thoughtful articulation and pitch bending in his multi-layered violin and viola lines.
In line with Nachmanovitch's credentials as an improviser, the album feels like a heartfelt, honest, somewhat raw response to a passing moment in time, and as such is something surely to be cherished.
DAVID KETTLE