A fitting, if mixed, tribute to one of the great violinists of the 20th century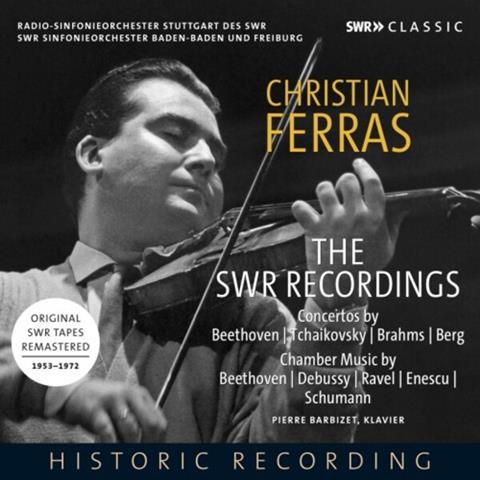 The Strad Issue: August 2022
Description: A fitting, if mixed, tribute to one of the great violinists of the 20th century
Musicians: Christian Ferras (violin) Pierre Barbizet (piano) Stuttgart RSO/Hans Müller-Kray, Michael Gielen; Baden-Baden RSO/Herbert Blomstedt
Works: Beethoven Violin Sonatas: in F major op.24 ('Spring'), in A major op.47 'Kreutzer'; Violin Concerto in D major op.61. Berg: Violin Concerto. Brahms: Violin Concerto in D major op.77. Debussy: Violin Sonata in G minor. Enescu: Violin Sonata no.3 in A minor op.25. Ravel: Tzigane. Schumann: Violin Sonata no.2 in D minor op.121. Tchaikovsky: Violin Concerto in D major op.35
Catalogue number: SWR CLASSIC 19114 (4 CDS)
One of the great lost hopes of the postwar Franco-Belgian school, Christian Ferras (1933–82) enjoyed two decades when it seemed that, with his beautiful tone and superb technique, he could do no wrong; but in his last years, personal demons overcame him, leading to tragedy. So, although nothing is added to his discography, this box of 1953–72 German Radio recordings is welcome.
Recitals from 1953 and 1959 feature his regular duo with Pierre Barbizet. The outer movements of the 1953 'Kreutzer' are a tad careful, lacking the joy in virtuosity that Beethoven and the sonata's dedicatee George Bridgetower must have aimed for, though the central variations are fine. The Frenchmen are on happier ground in the 1959 'Spring', with well-balanced, lyrical playing, although they short-change the wit of the Scherzo – sample Busch and Serkin in both sonatas.
With the 1953 Debussy Sonata and Ravel Tzigane, we have the very best of the duo, with utter perfection of style, taste, vision and accomplishment, in pretty good sound. This vein is continued in the Third Sonata by Enescu, Ferras's most revered teacher: it is difficult to fault this marvellous, stylistically aware, well-recorded interpretation.
Only a select few greats have tackled Schumann's mighty D minor Sonata. Enescu left it a bit late, but the Busch-Serkin duo were captured at their peak. Ferras and Barbizet convey the heroic stature of the opening movement, the restless mood of the second, the intensity of the third and the vital impetus of finale, making for a high level of satisfaction.
In the 1954 account of the Beethoven concerto, Ferras and Hans Müller-Kray are equally to blame for too slow a tempo in the opening movement, and Ferras lacks the penetration and intensity of artists such as Busch and Kogan in the Larghetto. The same conductor is unhelpful in the Tchaikovsky, especially in the first movement: this work was better served three months later with Constantin Silvestri for EMI. (I am not enthusiastic about any of Ferras's super-sleek recordings with Karajan, by the way.)
The fourth disc brings us back to the best of Ferras, with a thoroughly enjoyable Brahms well conducted in 1972 by Herbert Blomstedt, one slightly sticky passage in the Adagio apart. The finale is at Joachim's tempo rather than what Brahms originally wanted, but it has a good impetus. Even better is the 1970 Berg with Michael Gielen, carefully prepared and lovingly executed: this is the finest of the three Ferras performances I know, and one of the best interpretations by anyone, caught in excellent sound.
TULLY POTTER