Captivating avian homage to Messiaen by senior British composer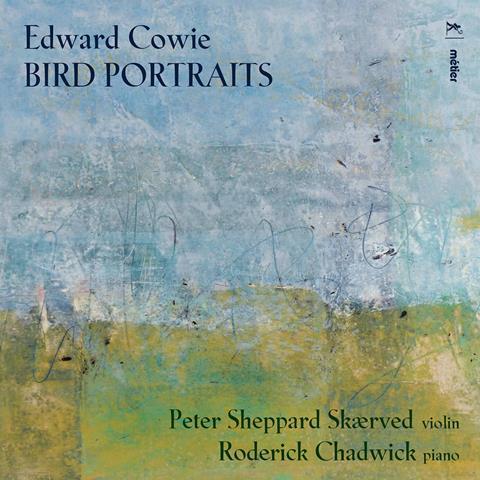 The Strad Issue: January 2022
Description: Captivating avian homage to Messiaen by senior British composer
Musicians: Peter Sheppard Skærved (violin) Roderick Chadwick (piano)
Works: Cowie: Bird Portraits
Catalogue number: MÉTIER MSV28619
Many of us drew inspiration and comfort from a renewed interest in birdsong during the months of harshest lockdown in 2020. For senior British composer Edward Cowie, however, it was an opportunity to deepen a passion for the natural world that has already informed many of his works. The results were these 24 Bird Portraits, miniature snapshots of individual birds' environment, movement, colours, character and, of course, song – as Cowie explains in his detailed booklet notes – published as four separate books containing birds of the water, wood and garden, field and sea, but here scattered joyfully together across settings.
Inevitably, the ghost of Messiaen hovers closely behind much of this music, as Cowie himself acknowledges, and indeed he seems to pay overt homage to the earlier composer in some of his harmonies and scene-painting textures. But these are very much Cowie's own perspectives on British birdlife, in which he seems to neatly sum up a bird's personality and behaviour, before almost invariably closing with some surprisingly close and accurate evocation of its song, as though giving his birds the last word. The results are imaginative, captivating and really very moving.
Cowie could hardly have hoped for more committed, persuasive interpreters than Peter Sheppard Skærved and Roderick Chadwick. The violinist, in particular, tackles the subtleties of Cowie's writing magnificently, with a brilliant control of tone, vibrato, attack and much more, put to good use in this descriptive music. The raucous cackling of Sheppard Skærved's 'Magpie' and the eerie cooing of his 'Tawny Owl', to take just two examples of many, are particularly effective, and the haunting call of the 'Great Northern Diver' swimming into the distance makes for a particularly poignant closer. This is a disc of quiet wonders, captured in close, detailed sound.
DAVID KETTLE