Violinist Alexandra Wood, Creative Director of City of London Sinfonia, introduces their Absolute Bird series in conjunction with the RSPB – a life-affirming project on and off the stage of the Southbank and Southwark Cathedral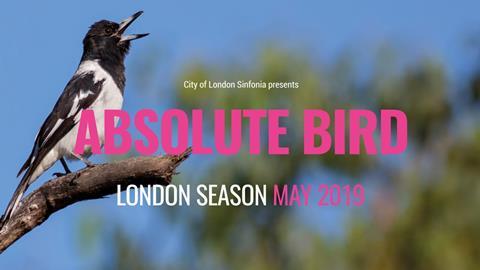 Spring is finally here. Next Sunday – 5 May – marks International Dawn Chorus Day. As CLS launches its Absolute Bird series on Friday 3 May, the RSPB has released a single of pure bird song – called Let Nature Sing – which it hopes will enter the charts and reach No. 1 by the end of next week. With the nightingale population down by 90% to a mere 5,000 along with several other native varieties, there couldn't be a better time to celebrate songbirds. Hot on the heels of Blue Planet, Our Planet and Extinction Rebellion, Absolute Bird joins the campaign to spread a greater awareness of the natural world and the need to save our precious environment before it's too late.
Bird song is an intriguing mystery. Why do birds sing? What exactly do they sing? Is it music? After listening to Chris Watson's fascinating programme on BBC Radio 4 and doing some research of my own, I was amazed to discover the sheer diversity of music influenced by birds and birdsong. This, along with discussions with recorder player Genevieve Lacey and Miranda Krestovnikoff (president of the RSPB, and also a flautist) helped to develop the idea of a whole series themed around birds and their songs. With 800 years of music inspired by birdcalls, we were spoilt for choice of repertoire.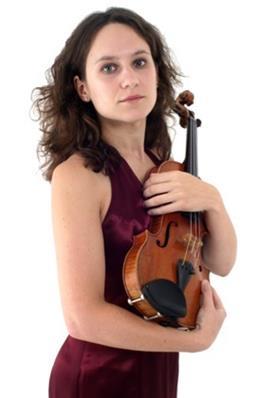 For violinists, Vaughan Williams' Lark Ascending (which will close the concert at QEH on 24 May) is of course the work that probably comes to mind first. And here I believe the violin can evoke something beyond merely imitating the bird calls. The physicality of moving back and forth from one string to another almost mirrors the lark winging and wheeling through the sky. The sheer range of the violin – much greater than say a flute – also helps to portray the bird floating off high into the sky too.
String crossings are a major feature in Vivaldi, for example the 'cuckoo' section in 'Summer' from the Four Seasons, or even his concerto Il Cuccu. (Though admittedly here they are especially virtuosic: I always imagine that he must have been depicting a pretty frantic cuckoo!) The programmes for our three concerts at the Southbank Centre and Southwark Cathedral make the most of this visual aspect of string playing. We are even using string arrangements of keyboard pieces such as Rameau's La Poule, which take on a new life when you can actually see bow arms 'pecking' furiously!
Composers have used the inspiration of birds and birdsongs in various different ways. Whilst some, like Vivaldi, use birdsong somewhat gesturally (and are not entirely ornithologically accurate!) others have evoked the sense of the magical and mystical by very literally quoting the songs in their compositions.
Messiaen, of course, was fascinated by birdsong, painstakingly recording and cataloguing it. It became infused into his musical language. His Catalogue d'oiseaux for solo piano – essentially 13 portraits of particular birds – is not only his most substantial work for piano, but also a wonderful celebration of nature.
The Birds by Respighi (which we also perform at QEH) is based on music from the 17th- and 18th-century and attempts to transcribe birdsong into musical notation. It even illustrates birdlike actions, such as the fluttering of wings, or scratching feet!
Today's technology has enabled even more detailed study and capture of the calls, so that now composers can expand this approach and use their 'raw material' in surprising and challenging ways. If a composer wants to create a soundscape about walking in the woods in spring, why not borrow from the best natural musicians? For example, Hollis Taylor uses her field recordings as the very foundation/backbone of her compositions.
With the RSPB, folk singer Sam Lee has gone one step further, releasing a track of pure bird song – Let Nature Sing – remixed from 25 different birds, many of whom are now endangered in the British Isles due to pollution and lost habitats.
On 24 May, Sam also joins us on the final night of Absolute Bird, livestreaming the nightingales' song straight from the forest into the Queen Elizabeth Hall for a late-night improvisation inspired by their calls.
CLS Chief Executive Matthew Swann and I have been trying to choose themes which work on multiple levels to bring in new audiences and allow us to explore a wide range of music – not just classical. We are an unusual orchestra in that we dedicate 150 days a year to working away from the concert platform. Our series themes need to work well in the context of the wider participation work we undertake in the community – in hospitals, schools, care-homes, psychiatric wards and mindfulness programmes. Of course, nature opens all these doors.
Music with birdsong has an immediate appeal. Whether you are a trained musician or not, everyone can appreciate the beauty in birdsongs, and that in turn inspires and encourages us to create music. At Headway East London, my CLS colleagues and I work alongside outpatients recovering from brain trauma to compose and improvise music. By using birdsong as part of our compositional process, we are also encouraging everyone to listen in a new way.
Making music together in this way helps people to grow in confidence – to learn how to work in a team and to create something they can be proud of. It is a complete leveller. At the Bethlem and Maudsley Hospital School, we have been composing music inspired by birdsong with young people with psychiatric illness. Again, this access to music is a wonderful creative resource for these young people but also, we are hopefully simultaneously encouraging a respect for our wildlife.
We are extremely lucky that we get these varied experiences at CLS, as whether on the concert platform, in a school or in a care home, you learn from every situation. I am always uplifted by peoples' joy and love of music-making – it is infectious. That enthusiasm is refreshing and invigorating, and helps me to appreciate what I do as a musician every day!
Absolute Bird runs from 3 May to 24 May. For further information and to book visit: https://cityoflondonsinfonia.co.uk/whats-on/2494/absolute-bird-sounds-of-the-outback/
To download RSPB's single, visit: https://www.rspb.org.uk/get-involved/campaigning/let-nature-sing/