A typically unorthodox journey through solo Baroque repertoire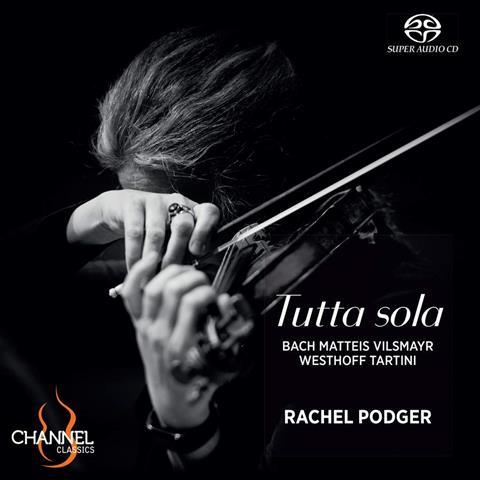 THE STRAD RECOMMENDS
The Strad Issue: January 2023
Description: A typically unorthodox journey through solo Baroque repertoire
Musicians: Rachel Podger (violin)
Works: Works for solo violin by Bach, Corelli, Gasparini, Lonati, Matteis the Younger, Nogueira, Purcell, Tartini, Vilsmayr, Vitali and Westhoff
Catalogue number: CHANNEL CLASSICS CCSSA44422
Rachel Podger explores a selection from the rich solo violin repertoire that preceded the monumental works of Bach, constantly probing each composer's intentions and forging telling, meaningful interpretations. She frames her choices with a familiar Bach attribution, the Toccata and Fugue BWV565, given a new, lighter guise in Chad Kelly's idiomatic transcription, and Tartini's Sonata Piccola in D major op.26 no.17, the central 'Aria del Tasso' of which she delivers with a winning variety of expression.
Podger meets head-on the advanced technical requirements of Westhoff's Suite (1683) and makes perfect sense of its polyphonic textures and Bachian amalgam of styles, especially the flamboyant arpeggiations in the Prelude. Similarly, she dispatches the prelude of Matteis the Younger's Fantasia in C minor with temporal suppleness and demonstrates a clear understanding of the voice-leading in the ensuing fugal section. She completes her programme with a prelude, various dances and 'arias' from Vilsmayr's Artificiosus Concentus pro Camera, preludes from a John Walsh compilation intended for technical improvement and some fantastical gems from the Nogueira and Klagenfurt manuscripts, all communicated with a beguiling mix of technical sophistication, variety of expression, rhetoric, spontaneity and intimacy.
A resonant church acoustic gives full bloom to the clear, sonorous tone of Podger's 1739 Pesarini violin.
ROBIN STOWELL