Edward Bhesania gives his views on a virtual performance from London's Wigmore Hall on 15 March 2021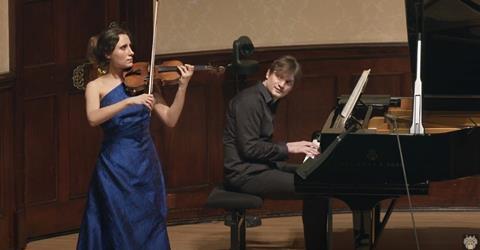 With almost 20 years of performing under her belt since winning the BBC Young Musician competition in 2002, Jennifer Pike has little to prove and plenty to show. Mostly relatively undemonstrative in physical gesture, she keeps her focus on the sound, not the look.
And it's a sound that was rich and vibrant from the start, in Bacewicz's unaccompanied Polish Caprice, in which Pike's full-toned opening lament gave way to a fast and flashy folk tune.
Mozart's two-movement Violin Sonata in E minor K304, was the only item not to reflect the violinist's Polish roots on her mother's side. Her judicious use of non-vibrato set a mysterious tone in the first movement. The Minuet shone with poise and clarity, its major-key Trio emerging with both brightness and warmth.
After pianist Petr Limonov went solo for Chopin's three op.63 Mazurkas, Pike returned with the Violin Sonata by Poldowski, the Belgian-born daughter of Polish violinist Wieniawski. Again her sound was true, and she was alert to the sonata's passion and poignancy, as well as its ripe chromaticism. The tempestuous finale was taut with an undercurrent of nervous energy. Pike's finale was Poldowski's Tango, suffused by the composer with a Spanish flavour at the start, and by Pike throughout with soaring melody and suave pitch-bending.
EDWARD BHESANIA