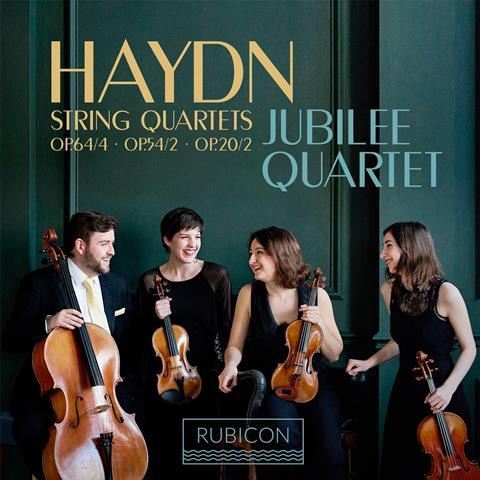 THE STRAD RECOMMENDS
The Strad Issue: June 2019
Description: Fresh, exemplary playing on an outstanding debut recording
Musicians: Jubilee Quartet
Works: HAYDN String Quartets in C major op.20 no.2, in C major op.54 no.2 and in G major op.64 no.4
Catalogue Number: RUBICON RCD1039
The multi-award-winning Jubilee Quartet's outstanding debut disc features eloquent accounts of three Haydn quartets, performed with spontaneity and pleasing communicative flair.

Musical characterisation is vivid and decisive, enhanced by a sensitive appreciation of harmony, phrasing and structure and wide-ranging dynamic gradations. Ensemble is unwaveringly unanimous and Rubicon's recording is clear, immediate and well balanced. Liner information, however, is somewhat minimalist.
These players demonstrate a striking warmth of feeling in the slower moments, notably in the emotionally charged dynamic shifts in the Capriccio of op.20 no.2 and the tense, brooding chorale of op.54 no.2, which is agreeably transformed by lead violinist Tereza Privratska into impassioned quasi-improvisatory fantasies.

Privratska also excels in her elaborations of the sustained cantabile melody of the Adagio of op.64 no.4, the rustic Menuetto movement of which features her in more playful mood, particularly in its pizzicato-accompanied trio. All four players rise to the various technical challenges of the fast movements with precision and panache.

They dispatch the fugal finale of op.20 no.2 with sotto voce subtlety until its forte explosion towards the end, making much of the drama and rhetoric of the muscular opening Vivace of op.54 no.2 and revelling in the polyphonic developmental elaboration of the opening theme of op.64 no.4's finale.
ROBIN STOWELL