Czech warmth illuminates a Classical master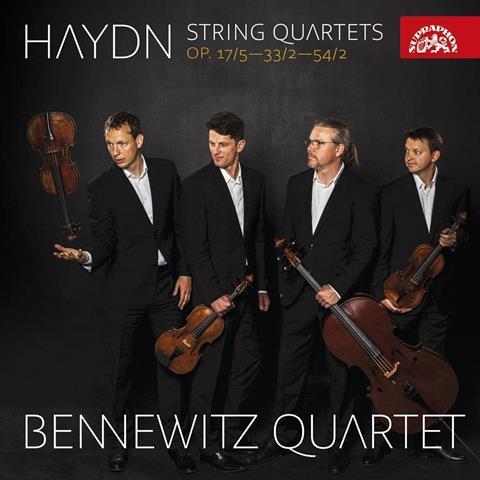 The Strad Issue: August 2023
Description: Czech warmth illuminates a Classical master
Musicians: Bennewitz Quartet
Works: Haydn: String Quartets: G major op.17 no.5; E flat major op.33 no.2 'Joke'; C major op.54 no.2
Catalogue number: SUPRAPHON SU 43262
The 50-minute playing time for a full-price album, the goofy cover photo and the homely warmth of both engineering and playing all evoke the days of LP, and specifically Supraphon's analogue era, when the likes of the Vlach and the Smetana charmed listeners on the other side of the Iron Curtain with their straightforward musical intelligence and golden tonal palette.
The legacy of the Czech quartet tradition would appear to be safe in the hands of the Bennewitz, which eschews fashionable extremes of timbre and gesture without neglecting this music's contrasts of town and country, court and tavern, and its capacity to surprise. We'll (almost) pass over the poor-taste portamento of the leader's slides in the trio of op.33 no.2. The famous 'joke' of the finale is told without labouring the point. The Baroque pathos of op.54 no.2's Adagio glows with an inner sincerity, and all three minuets likewise retain their dignity; nothing here is rushed or overdone, though the Presto section of the finale of op.17 no.5 is nimbly negotiated as an exhilarating pay-off to the grave severity of the Adagio.
All three are eminently repeatable accounts, but I have returned more than once to op.54 no.2 for a rare sense of a studio performance living in the moment of its creation.
PETER QUANTRILL