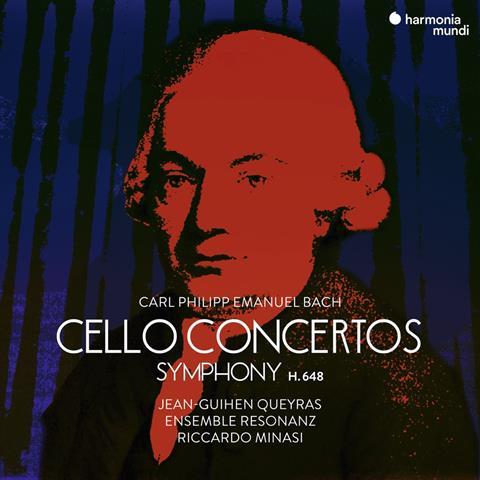 THE STRAD RECOMMENDS
The Strad Issue: September 2018
Description: Compelling, idiomatic playing in Bach Junior's cello concertos
Musicians: Jean-Guihen Queyras (cello), Ensemble Resonanz/Riccardo Minasi
Works: C.P.E Bach Cello Concertos Wq 170 and Wq 172; Symphony H648 (Wq 173)
Catalogue Number: HARMONIA MUNDI HMM 902331
I imagine that breakfast in the Bach household must have run along the lines of 'Papa' asking Carl Philipp Emanuel if he had written his fugues yet as Telemann was coming round for lunch. Yet out of this hothouse setting C.P.E. Bach sprang on to the musical scene as a vivid and cutting-edge composer, forging ahead towards the Classical style with inventive and bold musical expression.
Queyras's warmly recorded rendition of two of his cello concertos with the modern-instrument group Ensemble Resonanz certainly encapsulates that pioneering spirit. Working hand-in-glove with this finely honed ensemble, Queyras delivers compelling and idiomatic interpretations, at one moment part of the strings' texture, then blazing forwards to deliver the intricacies of the virtuosic line with character and ease. His playing is exquisite in the mesmerising and soulful Andante of the A minor Concerto Wq170, while the outer fast movements are delivered with tremendous pizzazz. Equally persuasive in the A major Concerto Wq172, he gives a sensitive delivery of the Largo that tears at the heartstrings with its breathtaking poignancy. Cadenzas are relatively brief but very much within the musical vernacular.
In between the two concertos Riccardo Minasi secures crisp and lightly energised playing in the G major Symphony, where meticulous rehearsing has yielded simply wonderful results.
JOANNE TALBOT